At Least 20 States Won't Extend Unemployment Benefits After Labor Day
"Most people live paycheck to paycheck, and starting next week they're not going to be able to count on a regular source of income."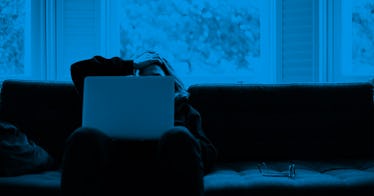 In only a few days, millions of Americans are set to lose all of their extended federal unemployment benefits.
The unemployment programs established by the CARES Act to help workers through the pandemic will expire by Labor Day. This will leave millions of workers out in the cold.
According to CNBC, the coronavirus unemployment benefits expire on or before September 6. The programs set to end include the unemployment benefits for gig workers who aren't usually eligible for unemployment insurance, assistance for the long-term unemployed (for people who are jobless for 27 weeks or more), and the $300 per week federal supplement on top of existing federal and state unemployment benefits. It's estimated these benefits help 7.5 million people across the US right now — after dozens of GOP-led states kicked their workers off the unemployment benefits early to little effect.
One in four workers relied on some form of unemployment assistance during the pandemic, reports The Century Foundation. And stats today show that there are currently 9.8 million unemployed workers, yet the states aren't doing anything to help.
While the Biden administration, in their decision not to fight to extend the benefits, said that states could use emergency COVID-19 funds appointed to states from the American Rescue Plan to fill the unemployment gap, most states will apparently not be doing that.
CNBC reached out to all 50 of the departments responsible for unemployment benefits in each state. Of the 20 that responded, all said they have no plans to extend the programs for their constituents.
These states confirmed they're not planning to extend unemployment benefits:
Alabama
Alaska
Arkansas
California
Hawaii
Iowa
Louisiana
Maryland
Michigan
Mississippi
Nebraska
North Dakota
Oregon
Pennsylvania
Tennessee
Utah
Virginia
West Virginia
Wisconsin
Wyoming
Of states that didn't respond to the survey, like Arizona, Florida, Texas, Missouri, Idaho, Indiana, New Hampshire, Georgia, Montana, Ohio, Oklahoma, South Carolina, and South Dakota, all ended their benefits early — in June, July, and up to early August — and will 100 percent not be extending the unemployment benefits they already shut off before the expiry dates.
They did this under the guise of saying these benefits prevent people from finding employment. That's belief that's been dispelled several times by experts, as kicking people off of unemployment has not been shown to meaningfully boost employment in those states.
In the meantime, the benefits cliff that families will be walking off of will be disastrous — and will make it harder for people to pay bills and rent while eviction moratoriums expire, people are in debt from COVID-19, and employment hasn't meaningfully grown in the latest jobs report.