Federal Mask Mandate Will Remain in Place at Airports, Public Transit (For Now)
The federal mask mandate for public transportation — and airports — will remain in place for at least one more month.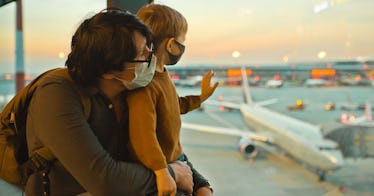 ArtMarie / Getty Images
The Transportation Security Administration (TSA) announced this week that it would extend the mask mandate for public transportation. According to the TSA, the mandate, which had been scheduled to expire on March 18th, will now extend another month until April 18th.
The extension, which includes not only public transportation but also transportation hubs such as airports, train stations, and bus stations, came at the recommendation of the Centers for Disease Control and Prevention (CDC). In a statement regarding the extension, the TSA stated that the CDC will continue to work on a "revised policy framework for when, and under what circumstances, masks should be required in the public transportation corridor," adding that the "revised framework will be based on the COVID-19 community levels, risk of new variants, national data, and the latest science."
This announcement comes two weeks after the CDC announced updated, more relaxed public mask guidance for indoor public spaces based on new metrics for determining community transmission of COVID-19.
The medical community is praising the extension. "We are pleased the Administration extended the requirement for mask use on public transportation and for transportation hubs for another month," said Gerald E. Harmon, M.D., President of the American Medical Association, in a statement. "We know that wearing a well-fitted, medical-grade mask is an effective public health measure that helps limit the spread of SARS-CoV-2 and helps protect those who remain vulnerable to COVID-19, particularly people who are immunocompromised and children under age five who are not yet eligible for the vaccine. We look forward to reviewing the CDC's revised framework for when masks should be required on public transportation when it is available."
Although the medical community is pleased, major players in the travel industry were hoping the mandate would expire this month. Representatives of Airlines for America, the American Hotel & Lodging Association, the U.S. Chamber of Commerce, and the U.S. Travel Association asked, in a February letter to Jeffrey Ziets, the Biden administration coronavirus response coordinator, that mandates be rescinded.
"With declining hospitalization rates, increased immunity, widely available vaccines, and cutting-edge treatments on the horizon, America is reaching an inflection point where endemic-focused policies can replace pandemic-driven restrictions," said the letter. "As leading U.S. travel and business organizations, we respectfully urge the Administration to chart a clear course for replacing pandemic-era travel advisories, requirements, and restrictions with endemic focused policies of a 'new normal' that enable travel to resume fully, freely, and safely."