Federal Employees of This Country Are Getting "Summer Fridays" Forever
The four (or four and a half) day workweek has another new supporter.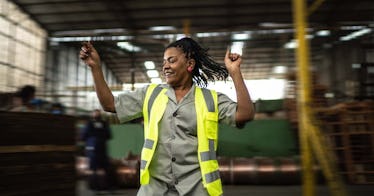 Over the past 18 months, parents have struggled hard to achieve the ever-elusive goal of "work-life balance." For parents — especially those of kids whose schools were cancelled, who worked from home, and who juggled it all —can feel nearly impossible to achieve. With our standard workweek being Monday through Friday, the juggle is frustrating and there's never enough time to get everything done, let alone have time to unwind.
This isn't a uniquely American issue — though Americans do boast some of the longest working hours in the world — but in looking at how some other countries are addressing this issue, including by shortening the workweek, we can't help but wonder if that could work here, too.
The United Arab Emirates (UAE) recently announced it is moving all federal employees to a 4.5-day workweek. The government announced the shortened week is an effort to "boost productivity and improve work-life balance."
Starting January 1, 2022, the weekend will officially start at noon on Fridays and will run through Sunday night. This official "summer Friday" means the new workweek will be from 7:30 a.m. to 3:30 p.m. Monday to Thursday, and 7:30 a.m. to 12 p.m. Friday, the government explained in a tweet.
The government also shared there will be flexibility for workers to work from home on the Friday half-days if they wish as well. This change moves away from the company's typical Sunday-to-Thursday workweek.
This workweek change is only for federal employees, and it's not mandated for business in the private sector. However, it will have a positive impact on businesses as a whole in the country. The government said the new workweek structure will help UAE align with other global trade countries.
The UAE is one of a few countries that have made changes or proposed changes to the workweek schedule. The Labour Party in the UK has been pushing to pass a four-day workweek which will have a maximum of 32 hours to increase work-life balance, too.
Other countries, including Iceland, New Zealand, Spain, and Japan, have have experimented with a four-day workweek with pilot programs run by business and governments – all without a reduction in pay.
The United States has yet to implement anything to help create a better work-life balance. And in a year that's been tremendously challenging, for working parents in particular, the need for some of these changes has never been so in our faces.