70,000 Workers Just Got a Huge Raise — Do You Qualify?
A new directive is raising minimum wage for tens of thousands of workers.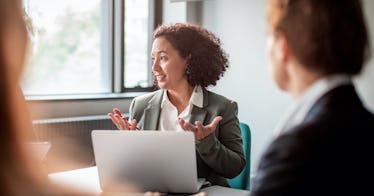 Getty Images
If you are a federal government employee, you may be in line for a nice little pay bump, as new guidance from the Office of Personnel Management (OPM) raised the minimum wage for federal employees to $15 per hour.
"Raising pay rates across the federal government to a minimum of $15 per hour reflects our appreciation for the federal workforce and our values as a nation," Kiran Ahuja, Director of the Office of Personnel Management, said in the statement.
According to the new directive, federal agencies will have until January 30 to implement the new wage, which is expected to affect more than 70,000 workers across the United States and does not include the U.S. Postal Service and Postal Regulatory Commission. The majority of federal employees paid below $15 hourly work for the Departments of Agriculture, Defense, and Veterans Affairs
The minimum wage has become a hot topic in the political discourse, as the left has argued that low pay rates across the country — and a minimum wage that in many states is as low as the federal minimum wage of $7.25 an hour, make it impossible for many Americans to hope to keep up with the rising rates of inflation and cost of living. None of the 50 states have a minimum wage of $15 (California has the highest at $14 per hour), though some cities like New York City, Washington D.C., and Seattle have raised their minimum wage to $15 or more.
Last year, President Biden enacted a similar executive order which raised the minimum wage of federal contract workers to $15 an hour. In the statement announcing the wage increase, Ahuja made a point to praise the Biden Administration for its support of thousands of workers.
"The Biden-Harris Administration believes that the federal workforce should be treated with dignity and respect," said Ahuja. "Raising pay rates across the federal government to a minimum of $15 per hour reflects our appreciation for the federal workforce and our values as a nation."