The 4-Day Workweek Could Become Nationwide Standard With Bill
Rep. Mark Takano of California's 39th district reintroduced his proposed federal bill that would move workers away from the 40-hour workweek.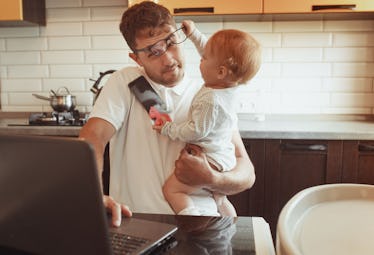 Shutterstock
On March 10, 2023, Rep. Mark Takano of California's 39th district reintroduced his proposed federal bill to move away from the 40-hour workweek in favor of a shorter workweek. Called the 32-hour Workweek Act — and introduced to Congress first in 2021 — the bill, if passed, would officially change the definition of a standard workweek. But will it get a better chance of becoming law this time around?
According to CNBC, the 32-hour Workweek Act is heading to Congress once again. The bill would reduce the hourly definition of a standard workweek by amending the Fair Labor Standards Act. The bill, should it pass, will apply to non-exempt workers — those who usually work hourly-paid jobs in retail, wholesale, construction, manufacturing, hospitality, leisure, and transportation trade.
Takano's proposal aims to mandate overtime pay for any work that is done past the 32 hours per week mark. The bill would also "encourage businesses to either pay workers more for longer hours or shorten their week and hire more people," CNBC explains.
"The serious conversations about the reduced workweek are happening for white-collar professions," Takano told CNBC. "What my bill will do is spur conversation about how we democratize this norm to other sectors of the workforce so everybody benefits."
The bill was previously introduced in July 2021 with Takano leaning on data from hundreds of companies over the past few years that have moved to the 32-hour, or four-day, workweek model.
He cited evidence that the 32-hour workweek is beneficial for workers and companies, adding, "productivity climbed, and workers reported better work-life balance, less need to take sick days, heightened morale and lower childcare expenses because they had more time with their family and children."
Fatherly has covered reporting that suggests that workers are happier, healthier, less stressed, and catch up on sleep with their extra day off.
At the time of its proposal in 2021, the bill ultimately failed to advance in Congress, despite its endorsement by the Congressional Progressive Caucus. In the 18 months since the bill was first introduced, several other shortened workweek pilot programs have completed their testing and data collection phase, adding volumes of more evidence that shortened weeks are better for businesses and employees.
"More than 900 workers across 33 businesses in the U.S. and Ireland ran through the same program last year," CNBC notes, "and none of them are going back to a five-day model."
Some states across the U.S. have developed similar legislation to move to a shorter workweek as well, including Pennsylvania and Maryland, though those bills are also not yet law.