The FDA Only Recommended Booster Shots for A Specific Group. Why?
Nearly a million people have already gotten a booster. But here's why it might not be best for you.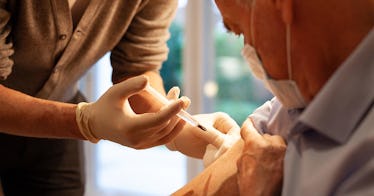 Last week, the FDA more or less rejected a Biden administration plan to offer COVID-19 booster shots to all Americans 16 and up.
The Biden administration had planned on doing a widespread rollout of the booster shots — the third dose for Pfizer and Moderna receivers and a second for those who got the Johnson & Johnson shot. But on Friday afternoon, the FDA said they didn't recommend a widespread rollout of the COVID-19 vaccine booster shots, and instead settled on recommending the rollout for targeted groups. But why did the FDA not approve it for everyone? And who did they approve it for? And what does that mean for the rest of us?
The vaccine advisers to the FDA announced on Friday, September 17, that it had declined the recommendation of booster shots of the COVID-19 vaccine to everyone who was vaccinated six months ago or longer.
Why the change? Well, it all comes down to data. CNN reports that members of the Vaccines and Related Biological Products Advisory Committee were vocal about the fact that the vaccines, as administered, are still extremely effective. "The stated goal of this vaccine has been to protect against serious illness," Dr. Paul Offit, a professor of pediatrics at the Children's Hospital of Philadelphia, told the meeting. "Data shows that these vaccines do exactly that," he added. "It's exactly what you'd expect."
While the agency isn't recommending everyone get a booster, there are some people where a booster might be recommended. Those included in the recommendation to get a booster shot by the FDA are people 65 years old and up. Also included are people at high risk of severe infection, which typically includes organ transplant recipients, those on immunosuppressing medication, and those who have other medical conditions that could affect their immune systems.
The agency also approved the booster vaccine for "health care workers and other people at high risk of getting infected at work — even if they are not at especially high risk of severe disease." And the medical field seems to be on board with this plan, too. And, ultimately, the FDA appears to want to work on getting everyone their first rounds of doses before giving out extra boosts, with the exception of the targeted groups.
"It's likely beneficial, in my opinion, for the elderly and may eventually be indicated for the general population. I just don't think we're there yet in terms of the data," said Dr. Ofer Levy, a vaccine and infectious disease specialist at Boston Children's Hospital. CNN also pointed to fears that a third dose might be harder on teenagers and younger adults who are at a higher risk of developing myocarditis from the COVID-19 vaccines.
The targeted recommendation comes at a time when so many millions of eligible Americans still haven't sought out a COVID-19 vaccine, a phenomenon that is helping drive the rates of infections and is putting unvaccinated people, including currently vaccine-ineligible children, in hospitals across the country. And it more or less aligns with what the World Health Organization had been pushing in recent months, saying that the world should focus on getting everyone vaccinated before a rollout of booster shots. As data comes in for children under 11 that could mean that kids could get inoculated as early as Halloween, hopefully, the rate of infection will drive down as more people get their first and second doses of the vaccine.
While the booster shots haven't been approved for the general public yet, CDC data shows that nearly 1 million vaccinated people have already received an additional booster dose of the COVID-19 vaccine.