Fauci Recommends Vaccinated Folks Mask Up in Under-Vaccinated Areas
If you're traveling to these states, you should consider putting on a mask, Fauci says, even if you're vaccinated.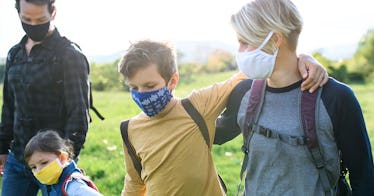 Summer has officially arrived and it feels like everyone is going on a big vacation to make up for lost time due to quarantine. But before you pack up the car and hit the road for your family getaway, you may want to check in on the vaccination rates of your possible destinations. Because of the prevalence of the delta variant, Dr. Fauci is recommending that vaccinated travelers wear masks when traveling to states with low rates of vaccination to avoid possible infection.
Fauci recommended continuing to wear masks if you find yourself in an area that has "a high level of viral dynamics and a very low level of vaccine."
He did not list specific states, but nearly a quarter of states across the country are below a 60 percent vaccination rate, including Arkansas, Georgia, Idaho, Indiana, Missouri, Montana, North Carolina, North Dakota, Ohio, Oklahoma, and South Carolina. Wyoming, Alabama, Tennessee, and West Virginia have barely passed 50 percent, while Mississippi and Louisiana are the two states that have failed to reach 50 percent.
And it's not just states where you might want to continue wearing a mask. Los Angeles County "strongly recommends everyone, regardless of vaccination status, wear masks indoors in public places as a precautionary measure."
The reason for this level of caution is the delta variant, which is now the cause of 25 percent of new COVID cases in the United States and Fauci identified it as "the greatest threat in the U.S. to our attempt to eliminate Covid-19." While being vaccinated has proven to be overwhelmingly effective against the coronavirus, it is not a guarantee that you will not be infected, especially in areas with low rates of vaccination.
Fortunately, there are areas of the country where the vaccine rate is ahead of America's general rate, including Hawaii, Vermont, and Massachusetts. In all three states, over 80 percent of eligible adults have received at least one dose of the vaccine.
This article was originally published on