Fauci: Mask Guidelines for Vaccinated Folks Could Return
Fauci confirmed that the CDC is "actively" considering to change their mask guidelines for vaccinated people as Delta rises.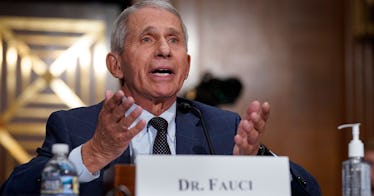 GETTY
According to Dr. Anthony Fauci, the U.S. Centers for Disease Control and Prevention (CDC) are considering changing one key guidance for vaccinated individuals. That guidance? Whether or not the CDC recommends that fully vaccinated people wear masks indoors.
On CNN's State of the Union, Fauci said that the CDC is currently discussing changing the mask guidelines that currently suggest that fully vaccinated individuals don't need to wear masks in most contexts and unvaccinated individuals need to wear masks in nearly all contexts, as Delta cases rise across the nation.
Fauci confirmed that the CDC is actively considering revising mask guidelines for vaccinated Americans and that locals should follow any local mask guidelines that are in place. Some cities have already changed their mask guidelines for fully vaccinated people as cases rise locally. Most recently, Los Angeles changed their mask guidelines to ask everyone, regardless of vaccination status, to wear masks indoors as the virus rages in the area.
Meanwhile, other public health officials have been calling for the CDC to bring back the mask mandates as unvaccinated people ditch them as well. "Those who didn't want to wear a mask and didn't want to get vaccinated are out there now spreading disease to others who are not vaccinated," says Dr. Ali Khan, a former CDC official, who spoke to KUT.
Emory University epidemiologist Dr. Carlos del Rio, also speaking to the publication, said that "it would be advisable for CDC to say, given the spread of the delta variant in our country, we would recommend that people go back to using masks indoors."
Fauci added a plea for more Americans to continue seeking out the vaccine as cases rise once again in particular hot spots. (For example, Missouri, Florida, and Texas account for nearly 40 percent of the new COVID-19 cases across the country alone. These three states have perilously low vaccination rates and have become hot spots for COVID.)
The mask mandates could slow the rate of infection of Delta, giving the virus fewer opportunities to mutate and potentially bypass or breakthrough to vaccinated individuals. It also buys people precious time to get vaccinated before they become infected with COVID and help ensure that unvaccinated people are wearing masks, too. But whether or not people will get vaccinated is another question altogether — especially as vaccination rates continue to slow to concerning levels.