California Chef Goes Viral for Putting Son Before His Restaurant In Annual Tradition
They spend the whole day having fun at their favorite place.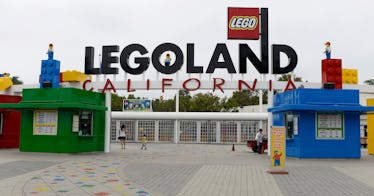 Kevork Djansezian / Stringer / Getty Images
It can feel nearly impossible to strike a work-life balance where we get quality time with our kids. For one California dad, nothing gets in the way of celebrating his son's birthday. And now he's gone viral for ensuring work never comes before his kiddo's big day.
Genji Sato owns a restaurant in Glendale and he went viral on social media after sharing his restaurant was closing for the day so he could take his son Daiki to Legoland for his birthday.
"Chef Genji and his son are going back to @legolandcalifornia on 28th, Monday," the message on social media read, sharing the doors would be closed for 24 hours so he could spend time with his son. "We will open regular hours on March 1st 🙂 Sorry for the inconvenience."
The post was well received on the restaurant's Instagram with over 230 comments of people offering happy birthday wishes and noting how cute and important taking time out to be with his son is.
According to TODAY Food, Genji and his wife, Kaya, started the tradition of visiting Legoland when their son turned 4 years old. "My son picked Legoland," he said. And since then, Genji closes the restaurant each year so they can revisit the land of LEGO.
Sometimes they're not able to visit the park on Daiki's actual birthday, which was the case this year. Genji shared that his son's birthday is in October, but they celebrated a little later. "But it was busy for me so I didn't have the time," he said of the delayed birthday tradition this year.
Which is better than last year when the two weren't able to visit their birthday tradition location. "Unfortunately it has been pandemic time. Unable to go @legolandcalifornia or some other places," Genji wrote at the time on Instagram. "Even couldn't have little birthday party with friends. But been family together That's still best."
On February 28, Genji told TODAY his family was enjoying their time at Legoland this year after having to take last year off. "We (have been) here since yesterday," he said. "It's good to be with family."