Father Asks Reddit For a 'Crash Course' on 'RuPaul's Drag Race'
When a dad discovered his teen's affinity for the popular reality show, he turned to Reddit for some help.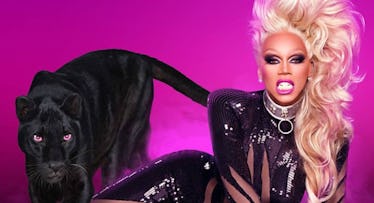 Ru Paul's Drag Race
A single father's earnest attempt to bond with his 15-year-old closeted son over the boy's affinity for RuPaul's Drag Race has blown up on Reddit. The dad recently turned to the site for help in understanding the show upon realizing how much it meant to his son, and thousands have delighted in his genuine desire to learn. In the RuPaul subreddit, the father ⏤ aptly using the Reddit name dad_of_a_fan ⏤ said that his teen is extremely shy due to his stutter and often keeps to himself, making it difficult to connect with him.
Dad_of_a_fan then explained that while he was cleaning his son's room, he noticed the boy had been watching RuPaul's Drag Race, a popular competition show where drag queens compete for the highly-coveted title of America's Next Drag Superstar. He also noticed that his son had been using terms from the show like "the shade" and "I'm gagging." After confirming that neither of these unfamiliar terms referenced anything dangerous, dad_of_a_fan decided to take to Reddit to see if anyone could help him "get a crash course on this sort of chat."
The post has received nearly 3,000 upvotes in less than a week, with hundreds of users letting the dad know that his desire to support his son already shows how great a parent he is. Many commenters said they wished that their own parents had shown similar effort to connect with them while growing up, while others shared stories of their own parents showing support during their teen years. One user even said that dad_of_a_fan had become the entire subreddit's honorary dad.
Comment from discussion Need help with my drag fan son..
Too often, Reddit can feel like a cesspool of negativity and conspiracy theories, so it's always nice to see something truly heartwarming occur. Hopefully, dad_of_a_fan has all the help he needs to fully immerse himself into the wonderful world of drag.
This article was originally published on