Parents Love This Famous Brand So Much, They Keep Naming Their Boys and Girls After It
One fashion-inspired baby name tops both the boys and girls list.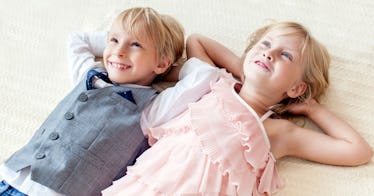 OrelPhoto / Shutterstock
There are millions of baby names in the world and there's inspiration to be found in everything. Some people look for classic baby names or ones that have been passed down through families for generations. Others hear a name in a movie, book, or TV show and go with unique baby names based on that. But another place to find baby name inspiration is fashion brands, and there's one name that has dominated both the boys and girls baby name lists.
Jewellerybox UK wanted to find out which fashion-brand was used more for baby names than others. To find this out, they used government data from the US and the UK to find a list of names given to babies born between 2000 and 2020 and included both boy and girl names.
They then used the list and compared it to the most popular fashion brands. "We excluded common names that may be associated with brands," the company noted. "For example, while Hugo Boss is one of the brands we looked at, we did not look at the name Hugo as it is a popular name in its own right; rather, we looked at the name boss which is more commonly associated with the brand."
Curious about what the most popular fashion-brand baby names are?
Most popular boy names inspired by fashion:
Armani, with 9,021 babies
Salvatore, with 5,158 babies
Valentino, with 4,955 babies
Kenzo, with 1,565 babies
Cartier, with 1,226 babies
Manolo, with 738 babies
Dior, with 724 babies
Omega, with 345 babies
Yves, with 256 babies
Hermes, with 220 babies
Most popular girl names inspired by fashion:
Armani, with 7,489 babies
Chanel, with 6,645 babies
Dior, with 2,568 babies
Nivea, with 987 babies
Maybelline, with 301 babies
Salvatore, with 263 babies
Dove, with 228 babies
Omega, with 194 babies
Cartier, with 181 babies
Valentino, with 176 babies
It's clear that Armani, inspired by the Italian luxury fashion house founded by Giorgio Armani, is favorited above the rest. It's topping the chart for both boy and girl names in the United States.
According to Social Security Administration, which keeps data on baby names, Armani was ranked #261 in 2020 for boys and 493 for girls, and its origin is Italian, and it means "warrior."
This article was originally published on