Family Dollar Temporarily Closes 400 Stores After Recall — What to Know
A far-reaching recall has been issued after discovering a potentially dangerous infestation.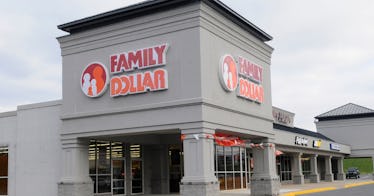 Ryan McFadden/MediaNews Group/Reading Eagle via Getty Images
Family Dollar, a discount store chain, has issued a major recall impacting more than 400 stores across the country. The voluntary recall was prompted after the U.S. Food and Drug Administration (FDA) investigation uncovered a worrisome infestation at an Arkansas distribution center. Here's what you need to know.
Why has Family Dollar temporarily closed stores?
On Saturday, February 19, Family Dollar announced it had temporarily closed more than 400 stores. The store closures happened across six states after discovering the distribution center had been infested with live and dead rodents and birds. The statement released by the FDA explained the animals were "in various states of decay," and the investigation also found evidence of gnawing and nesting, plus droppings.
The Family Dollar locations that have been temporarily shuttered include stores in Tennessee, Missouri, Mississippi, Louisiana, Arkansas, and Alabama.
After fumigating the impacted facility, officials say it revealed more than 1,100 dead rodents. In addition, company records showed the collection of more than 2,300 other rodents from March through September, indicating a "history of infestation," the agency said.
Infestations of rodents and birds increase the risk of Salmonella and other infectious diseases. These diseases can be hazardous for infants, children, pregnant people, the elderly, and immunocompromised people.
"Families rely on stores like Family Dollar for products such as food and medicine. They deserve products that are safe," Associate Commissioner for Regulatory Affairs Judith McMeekin, Pharm.D. said in the FDA release. "No one should be subjected to products stored in the kind of unacceptable conditions that we found in this Family Dollar distribution facility. These conditions appear to be violations of federal law that could put families' health at risk. We will continue to work to protect consumers."
Which products from Family Dollar are being recalled?
In addition to the temporary store closures for locations to remove the impacted products, a recall has been issued for FDA-regulated products sold at the contaminated facility.
"Some examples of these products include human foods (including dietary supplements (vitamin, herbal and mineral supplements), cosmetics (skincare products, baby oils, lipsticks, shampoos, baby wipes), animal foods (kibble, pet treats, wild bird seed), medical devices (feminine hygiene products, surgical masks, contact lens cleaning solutions, bandages, nasal care products) and over-the-counter (OTC) medications (pain medications, eye drops, dental products, antacids, other medications for both adults and children)," according to the FDA.
The agency explained that only the Family Dollar store locations in the six states are impacted by the recall for products sold from January 2022 to the present.
What to do if you have something that's been included in the recall?
The agency advises people to stop using any products and contact Family Dollar regarding the products. Products included in the recall can be returned to the Family Dollar where it was purchased and no receipt is needed. The FDA also suggests that any cosmetics, drugs, medical devices, or dietary supplements be discarded, regardless of the packaging.
"Food in non-permeable packaging (such as undamaged glass or all-metal cans) may be suitable for use if thoroughly cleaned and sanitized," the warning states. "Consumers should wash their hands immediately after handling any products from the affected Family Dollar stores."
The company said it "is not aware of any consumer complaints or reports of illness related to this recall." However, it's also been advised that anyone experiencing symptoms of Salmonella, which includes diarrhea, fever, or stomach cramps, contact their doctor.
This article was originally published on