Looking For a New Family Dog? Hilarious List Says Avoid These 10 Breeds
The best and worst of very good boys are compiled in an admittedly non-scientific list.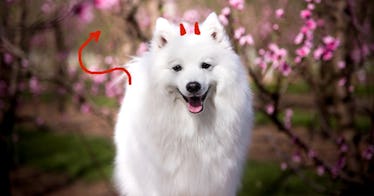 There have been numerous studies that show the benefits of having a pet can have for kids. Having a lifelong companion — one that teaches children how to love and grieve, but also increases their health by keeping them in contact with germs — is a no-brainer to some families. Add that to the fact that having a furry friend around is fun for the parents, too.
If you're looking into the possibility of adopting a dog — and didn't already do it during the early days of the pandemic when nearly everyone was adopting a very good boy or girl — which breed is the best for people of all ages? And which dog breeds are ones families should steer clear of?
Well, ProtectMyPaws put together a notably not scientific list of which breeds are the very best boys and the very worst *(still best) boys. Thankfully, all that information had been compiled in an easy-to-read format… and while you shouldn't take it too seriously, maybe it's worth looking over to see if your own family dog is on the list.
ProtectMyPaws wanted to find out which dog breeds have the character traits that are best for families with kids, so they took to Instagram. They counted the posts that talked about a dog breed along with one of the popular dog behavior hashtags. These include "#naughtypuppy," #cleverdog," and "#gooddog," to name a few. Once again — most puppies are naughty, so if you have your heart set on a "naughty" dog, don't fret.
From there, the data sorters "balanced the positive hashtags against the naughty ones and looked at where they were geotagged." Then they put all the information into charts and maps so it's easier to see the results.
A few key takeaways:
The apparently best-behaved dog breed on Instagram is the Korean Jindo Dog, with 75.86 percent behavior tags.
The naughtiest breed is allegedly the Japanese Spitz, which has 86.67 percent of Spitz behavior posts reporting bad behavior.
Other fun facts from the findings include South Africa being home to the naughtiest dogs, while Ukraine is the land of dogs that behave the best, according to the Instagram tags.
Like we say, since these data points are based on people using hashtags; it's not meant to be a clear statement that an English Springer Spaniel is a "worse" dog than a Belgian Malinois.
In fact, Malinois are the type of dog that needs an experienced dog owner who can firmly and consistently train their furry friend and give them lots of exercise — which might not actually be the best for some families with young children or those who are short on time. An English Springer Spaniel, on the other hand, is a breed that is eager to please its owners, is super friendly, and is known to get along well with children (while also needing lots of exercise.)
At the end of the day, if you plan on getting a purebred dog, rather than adopting a mixed breed from your local shelter, doing your research to see what type of dog fits your family's lifestyle is the most important thing you can do. In other words, if you're a Pug-lifestyle family, don't get an Australian Shepherd.
These are the "best" dog breeds:
Korean Jindo Dog
Perro De Presa Canario
Rhodesian Ridgeback
Black Mouth Cur
Portuguese Water Dog
Anatolian Shepherd Dog
Rat Terrier
Belgian Malinois
Miniature Pincher
Dutch Shepherd
And these are the so-called "worst":
Japanese Spitz
Shichon
Mudi
Cockapoo
Wirehaired Vizsla
Chug
Poochon
Welsh Terrier
Keeshond
English Springer Spaniel
Remember to do your research and look for a dog breed that makes sense for you and your kids — and also remember that there are no bad dog breeds.
This article was originally published on