Farting In Zoom Class Goes Viral In Hilarious Video
This is stinking hilarious.
by Isabella Bridie DeLeo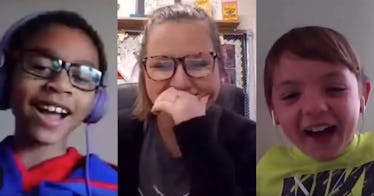 Facebook / Emma Ginder
Do you or your kids want to have more fun during Zoom class? Apparently the key is to cut the tension with a (fake, apparently!) fart noise. Or at least that's what one third grade teacher in Topeka, Kansas, did to keep her students entertained.
Teacher Emma Ginder posted a video of the hilarious moment on Facebook, which has since garnered 46K shares on the platform, and has also gone viral on Twitter. In the nearly 1-minute-and-30-seconds-long clip, you can see Ginder instructing her class to open their books and then a few seconds later, she plays a fart sound. Everyone erupts in laughter, including Ginder herself.
She captioned the video on Facebook, "Some days you just have to play a toot sound during class to lighten the mood. Way too good not to share. Also, I apologize for having the maturity of an 8 year old boy."
Judging by the reactions from her third graders, they clearly loved it, although they were a bit confused as to who actually let one rip, or if someone actually did. Someone commented on Ginder's Facebook video, writing, "Awesome teacher for making virtual learning fun. All the giggles were adorable!" And someone else wrote, "The laughter is so worth it."
This teacher certainly found a light-hearted way to make Zoom class a bit more fun, and the best part of the video is watching all the kids connect over laughter and slight disbelief.
A lot of kids who are doing virtual learning right now probably miss the small, silly jokes and moments such as these that happen in a classroom, and Ginder's joke probably served as a cathartic reminder.