No, You Don't Need to Shave Your Beard to Prevent Coronavirus
Bring back the porn stache all you want. But, understand, it's only for you, you're not doing the world a favor.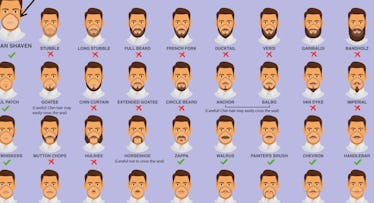 Credit: CDC (2017)
All around the world, countless men may suddenly believe they just got a free pass to bring back the Burt Reynolds stache or the Sugar Ray/Smash Mouth soul patch. Shaving-off our full beards and replacing those with smaller, more compact facial hair will help halt the spread of coronavirus, right? Wrong. A widely circulated infographic from the CDC is not about preventing coronavirus, and, has nothing to do with the effectiveness of conventional face masks. Here's what's really going on.
This week, the internet exploded when a 2017 CDC infographic started making the rounds. Naturally, because the infographic resurfaced around the same time that the CDC sent out very real warnings about how to prepare for the coronavirus, unsuspecting readers of the internet linked the two things. But, the truth is, this 2017 infographic is about using a respirator with facial hair, not a conventional face mask. (Which, by the way, if you aren't sick, you don't need anyway.) If you look closely at the graphic (after you look at all the different names for beards) you'll notice in the fine print this was created in conjunction with OSHA, and is in fact, from 2017. (2017 is even in filename of the PDF when you go download it!)
In fact, in its FAQ about the coronavirus, the CDC statement is: "the CDC does not recommend the routine use of respirators outside of workplace settings."
So, get excited about this funny 2017 infographic all you want. Just maybe remember it was created by the CDC for workplaces in which employees routinely use actual respirators on a day-to-day basis. It literally has nothing to do with coronavirus or how you put a surgical mask on your face. A surgical mask, by definition, does not need the face seal that this infographic is talking about. Only respirators require that seal. If you shave and put on a respirator, and you're not sick and don't need a respirator at your job, you're just doing some Breaking Bad cosplay. Which, fair enough!
So, if you feel so moved, widdle your full beard down to a Van Dyke or soul patch, go for it! Just don't expect us to start singing "I Just Want To Fly" again. And, certainly don't congratulate yourself for saving the world.
Here are the actual symptoms of coronavirus.
This article was originally published on