These 3 Expert Flying Tips Are The Way To A Smoother, Happier Flight
Yusri Abu Bakar, a long-haul pilot, shares a few tips on how to make traveling far more comfortable.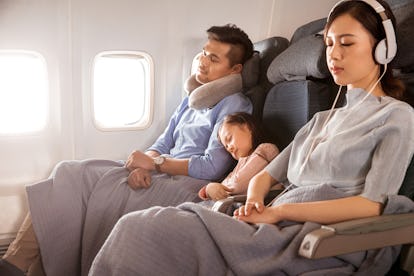 ViewStock/View Stock/Getty Images
Yusri Abu Bakar, a pilot who traded in flying F-16 fighter jets for an A380 commercial plane knows a thing about making long rides in planes more comfortable. After all, he regularly must get through 16-hour flights from Dubai to Auckland, New Zealand, one of the longest commercial flights in the world. The pilot recently imparted some of his best advice to the public when he spoke with Insider. In the interview, Bakar talked about a number of hard-earned tips for traveling in comfort on a long flight with a big focus on personal comfort.
Take care of your self, plan ahead, and think about your experience, he tells Insider. It's solid advice, especially given the increasingly irritable experience of flying today. With some 1.8 million hours of flight delays a year, increasingly sold-out flights, and a rise in missed connections everywhere, every little thing you do to make your experience better is important. And with an expected 108 million Americans to take to the skies this summer, there's no time like the present. So take Bakar's advice this summer — you'll be happier for it when you finally get to your destination.
Plan Your Every Hour For The Kids
According to Bakar, if parents will be traveling on a long flight with kids, he says having a planned schedule will make a world of difference.
"I've seen parents have timed activities for their kids. They'll bring out different toys or books at set times during the flight, so the child is surprised and entertained," he told Insider.
"Early in the flight, they will let them play games on their tablets, but as they move towards sleep time, they will remove some of the stimulation and give them a traditional board game so they calm down."
Bakar's advice mirrors Fatherly's traveling advice with kids in that preparation and foresight are the most important things for smooth traveling. And maybe don't forget to head to the dollar store before your flight to buy some cheap toys for the kids and wrapping them for the kids to open on the plane.
Bring Noise-Canceling Headphones, Eye Shades, And Loose Clothes
"I would normally pack a good set of noise-canceling earphones and a good pair of eye shades because sometimes you don't want to be disturbed by the lights," Bakar also suggests.
Bakar says that wearing "loose-fitting clothes so that you are more comfortable" and having enough water to sip on will make a huge difference.
Oh, and if you're traveling with kids, one dad told Fatherly that you should make sure you bring extra clothes for you and the kids.
Minimize Your Flight Crew Requests
Yes, according to Bakar, being considerate of the flight crew will make your flight way easier. He suggests that travelers be mindful of how much work the flight crew has and ask for things they need in bulk — like asking for a snack and a blanket — to help minimize their walk.
You can read three more of Bakar's long-flight traveling tips on Insider. And check out Fatherly's must-read family travel tips from dads.