Everything You Didn't Know You Need to Know About Dorothy's Ruby Slippers
Thirteen years after they were stolen, the original ruby slippers have been found.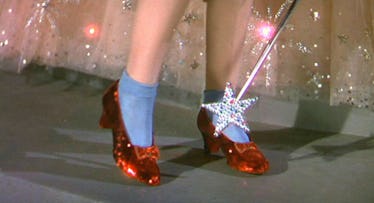 Wizard of Oz
Thirteen years after they were stolen, Dorothy's iconic ruby red (in reality, red sequined) slippers from The Wizard of Oz have been found after the FBI recovered them in Minneapolis earlier this summer. The slippers, which were one of four pairs worn by Judy Garland in the 1939 film, were owned by Memorabilia collector Michael Shaw but he had loaned them to be on display at the Judy Garland Museum in Grand Rapids, Minnesota, Garland's hometown, for the town's annual Wizard of Oz festival in 2005. But disaster struck when the slippers disappeared overnight as an unknown burglar broke into the museum and stole them.
For more than a decade, the FBI has searched for the missing slippers and now, they have finally been recovered. At this time, it is not clear whether or not anyone will be charged as a result of the slippers being found, though the FBI has indicated they will reveal more information about the recovery in the coming days. But for now, fans of the classic film can rest easy knowing that like Dorothy, these slippers have once again found their way home.
While the slippers are unquestionably among the most famous props in cinematic history, interestingly, they actually represent a departure from L. Frank Baum's original book The Wonderful Wizard of Oz. In the story, Dorothy's slippers are made of silver, not rubies, as the entire book serves as a political allegory for gold and silver's battle to become the primary American currency in the early Twentieth Century. Dorothy initially follows the Yellow Brick Road (aka the Gold standard) to try and find her way back home to Kansas but eventually discovers that the road is a path to nowhere and her silver slippers (aka the Silver Standard) were what would get her home the whole time.
But the political symbolism was abandoned in the film adaptation — along with the fact that Oz is a very real place instead of Dorothy's dream — and the slippers were switched from silver to red in order to emphasize the switch from black-and-white to technicolor upon Dorothy's arrival in Oz.
This article was originally published on