Eva Mendes Explains Why She Doesn't Let Her Kids Go Online
Eva Mendes opened up about why her and Gosling's kids aren't online yet — and why they might not be for a long time.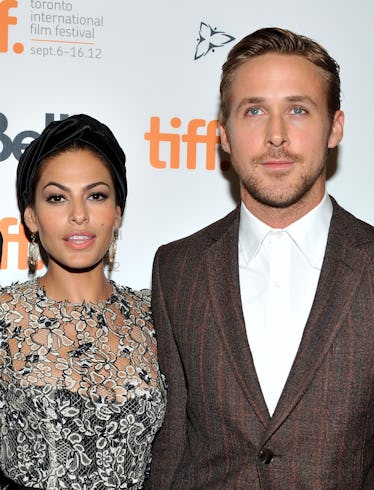 Sonia Recchia/Getty Images Entertainment/Getty Images
Eva Mendes recently opened up about her and Ryan Gosling's screen time rules for their two daughters, and though the rules may seem strict, they're very much in line with what the experts suggest. Despite both herself and Gosling making a living on the small and big screens, their kiddos are not allowed to use the internet or social media — at least for now.
On August 3, Mendes shared a post to Instagram, a video loop of her shaking her head and fingers in disapproval. In the caption, the mom of daughters Esmeralda, 8, and Amada, 7, shared the rules in her household regarding access to the internet and social media.
"When my kids ask me if they're old enough to go on the internet, social media or anything requiring wifi 😂," she wrote in the caption. She also added that while she lets her kids watch things on her iPad, it's downloaded content, and she doesn't put the device on Wi-Fi.
Screen time, social media use, and access to the internet — these topics are obviously hot-button in the parenting world. Most parents are navigating these topics with their kids, some of whom very vocally want to be online, without having experience dealing with the same technology when they were kids themselves. Many parents rely on expert-driven advice but find that advice is out of touch with the real world, too.
After all, the internet, social media, and other things that require Wi-Fi are very much intertwined with our world, and there's no doubt kids have access to these at a young age whether they're inside or outside of the home. And it's hard to toe the line between teaching our kids about these tools, helping them be responsibly digitally literate, and not having them feel left out for being the only 10-year-old without TikTok or a YouTube channel in their class.
But the research is clear: Waiting as long as possible before introducing kids to the online world, like Mendes and Gosling do, and having strict guidelines around its usage, is good parenting. That doesn't mean that you need to keep your kids offline until they're 18. It does mean, however, that you should be thoughtful about how you introduce your kid to the internet, which can be a powerful and important social tool for kids but also can harm their sleep patterns and potentially harm kids.
Mitchell Prinstein, Ph.D., Chief Science Officer of the American Psychological Association, previously told Fatherly that parents should keep in mind that social media is not built for kids: "I think we have to be aware that these platforms were developed with adults in mind. Kids have developing brains that render them more vulnerable to some of the features in social media, like the 'like' button, machine learning, and algorithms," he explained.
And although his kids are online and do have screen time, there are hard-set rules around that access. His kids aren't on social media yet — and won't be any time soon. There is a device they can use, with parental controls, protections, and more, only inside the home.
His advice and approach to screen time usage with his kids and the rules Mendes follows are what the other leading organizations recommend — such as the American Academy of Child & Adolescent Psychiatry, World Health Organization, Common Sense Media, and The American Academy of Pediatrics.
As Fatherly's guide to internet safety notes: "By the age of five, kids are capable of easily accessing the internet for themselves. By age 13, they're eligible to join social media platforms." So how do parents handle that? How do they handle the pressure of other kids having phones, using the internet, or being on social media? Parents should have the tech talk, set boundaries about what will and won't be allowed, use the internet with their children, and set parental controls and screen time limits.
And remember, no one is doing it 100% right all the time, but social media platforms don't let kids under 13 join. That's a clear reason to wait to get your kid online in and of itself — and a great way to rebuff their pleas when they start to ask when they can get an Instagram.
Although each expert-driven resource has slightly different suggestions for parents to develop their own guidelines, they all agree that holding off on allowing kids to have free, unsupervised access to the internet and social media is A+ parenting.