Ethan Hawke's Mathematician Dad Calculated the Odds of Him Making It in Hollywood
The actor also spoke to Seth Meyers about the 'awful' reality of getting too old to star in a sports movie.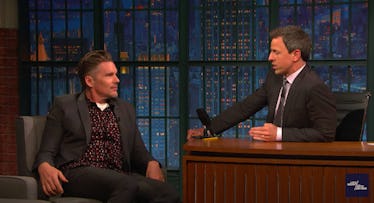 NBC
Last night, Ethan Hawke was on Late Night with Seth Meyers to promote his new movie First Reformed. And while the Training Day actor spoke with Meyers about his role as the pastor of a small church who is "plunged into his own tormented past," the two covered a lot more ground than just his latest role. Hawke talked about his dad using math to doubt his decision to pursue acting, his struggle to accept getting too old for certain roles, and his family's desire for him to join the priesthood.
Hawke is playing a priest in his upcoming movie and told Meyers that his great-grandmother had always hoped he would "receive the calling" and become a priest. Eventually, she learned to accept that his true calling was in acting. His dad, it turns out, took more convincing. Meyers asked Hawke about how his parents felt when they learned that he wanted to become an actor, and Hawke explained that his dad, a genuine mathematician, decided to use his knowledge of calculus and arithmetic to figure out the odds of his son actually earning a proper living in Hollywood.
"Let's do the math on how many guys in the Screen Actors Guild (SAG) make more than $17,000 a year," Hawke recalled his dad saying.
Despite the incredibly long odds, Hawke decided he was okay taking the risk, and his parents finally got on board. Meyers then transitioned into discussing Hawke's career as an older actor ⏤ noting that he began at an early age ⏤ and asked how he felt about being too old to take certain parts. Hawke explained that, while he's fine with getting older, it's "awful" to know he'll never star in a sports movie.
"I always had the thought that I would get in shape when I played the boxer or I would get in shape when I played the NBA player, but that's obviously not happening," Hawke told Meyers.
This article was originally published on