EPA Finally Bans Pesticide That Hurts Kids. Here's How to Avoid it Now.
The EPA has finally banned the use of chlorpyrifos. Here's how to protect yourself in the meantime.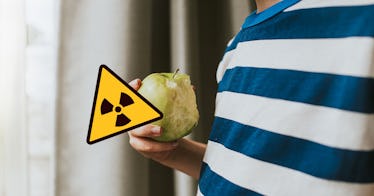 On August 18, the Environmental Protection Agency (EPA) announced that it would no longer allow the use of the pesticide chlorpyrifos on foods and in other uses, a ban that's been a long time coming. Chlorpyrifos has long been associated with neurological development problems in children, and it's been shown to harm farmers who work with the pesticide.
The move comes more than four years after the Trump administration first opted not to ban the pesticide, a neurotoxin that the Occupational Safety and Healthy Administration (OSHA), the government agency tasked with creating healthy work environments for employees, has linked to harming the development of children along with symptoms like "nausea, vomiting, headaches, dizziness, seizures, and paralysis."
In a statement, EPA administrator Michael Regan said that the step was "overdue… to protect public health. Ending the use of chlorpyrifos on food will help to ensure children, farmworkers, and all people are protected from the potentially dangerous consequences of this pesticide."
The impact of the ban could be huge, as chloripyrifos is one of the most widely used insecticides. It's used on apples, lettuce, peaches, potatoes, soybeans, fruit and nut trees, broccoli, cauliflower, and other row crops, per the EPA website. It's also used for non-food purposes, as it effectively kills mosquitoes, cockroaches, and fire ants.
Chloripyrifos has been in use since the mid-1960s, per CNN. It's been banned for household use since 2001, but farmers and agricultural workers have been allowed to use it commercially until now.
How to Limit Your Exposure to Pesticides in Food:
Wash your produce. Wash and scrub all your fruit and veggies under running water and with fruit wash if you have it.
Peel and trim veggies, fruits, and meats before eating them. Peel your fruits and veggies, peel leaves or greens off your produce, trim fat and skin from poultry, meat, and fish.
Eat a varied diet. Don't just eat chicken and potatoes — eat a variety of vegetables, fruits, meats, proteins, cheeses, etc. A mixed diet will "give you a better mix of nutrients and reduce your likelihood of exposure to a single pesticide," per the EPA.
Environmental groups have tried to get the pesticide banned for over a decade. In 2007, two groups — Pesticide Action Network North America and the Natural Resources Defense Council — asked for the pesticide to be banned, requesting the EPA revoke all chlorpyrifos "tolerances" (the maximum allowed residue levels in/on food) because no amount is safe for kids' developing brains.
Trump's 2017 and 2019 decisions not to ban the pesticide were in direct response to that 2007 petition.
After the denial, the groups went to the Ninth Circuit Court of Appeals. It ruled in April of 2021 that the EPA under Trump and former Administrator Scott Pruitt had "abdicated its statutory duty under the Federal Food, Drug and Cosmetic Act" by failing to prove the "present tolerances [of chlorpyrifos] caused no harm" before allowing its use to continue.
Following that ruling, the Biden administration's EPA "determined that the current aggregate exposures from use of chlorpyrifos do not meet the legally required safety standard that there is a reasonable certainty that no harm will result from" exposure, and has thankfully finally banned the use of the pesticide entirely.
This article was originally published on