You Have to See the Latest 'Encanto' Little Kid Lookalike
"There's nothing better than seeing your child's joy – especially being represented in a Disney movie!"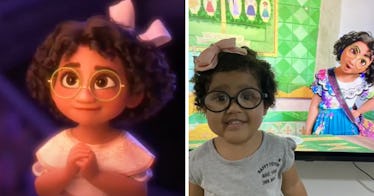 Diseny ; Instagram / @manubaby03
Like so many other parents, you're probably going about your day singing about why we don't talk about Bruno and the pressure that drips and drips but never stops. From the moment Disney's new movie Encanto hit Disney+, kids and parents have been obsessed with the characters. And little kids are seeing themselves in the story, like this little girl who looks just like the main character in the movie. And when she notices, her reaction is everything.
There are so many good things to say about Encanto and the Madrigal family at the center of the story. Adults and kids are resonating with the characters and their struggles because they're relatable on so many levels. And when one 2-year-old saw herself in the story, her reaction was 100 percent pure joy.
Hannary Araújo is mom to 2-year-old Manu Araújo Marques. Mom shared a video to social media of Manu watching Encanto for the first time. In the video, Manu looks at the TV and sees the main character, Mirabel, and recognized her right away.
"It's me mommy!" in Portuguese, according to BuzzFeed. Later, Manu repeated that she sees herself in the movie. "It's me!" she repeated before her mom replies, "It's you? Look at mommy, let me see if it's you." Manu turns around to look at her mom and the resemblance is clear. Manu looks just like young Mirabel, with glasses, curly hair, and all.
Hannary said that she was speechless when she witnessed her daughter's joy in seeing herself in a Disney movie. "There's nothing better than seeing your child's joy – especially being represented in a Disney movie!"
The video clip Hannary shared on Instagram was shared on Twitter where it caught the attention of Stephanie Beatriz, who voices Mirabel in the film.
The moment is more than just a fleeting cute moment captured for social media. Hannary explains that the impact Encanto will have on kids, including her own, isn't a small thing. She explains, "You changed our lives and showed us the true meaning of representation for the whole world, especially for our children — those who will build a better future!"