Boy's Unexpected Reaction To Mom's 'Empty Plate' Food Prank Goes Viral
No one was ready for Carson.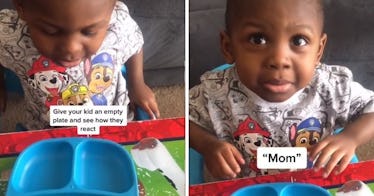 TikTok / @_carsongang
Parents with hungry toddlers know that making snacks is a lot like working against the clock. A little kid who's waiting for their snack is a tantrum waiting to happen. It's "hangry" at a whole new level. And that's what makes this viral TikTok video of a mom playing the "empty plate" prank with her young son that much more memorable — because one kid refuses to get hangry at all.
Kellie is mom to 3-year-old Carson, who went viral after she shared a video of a harmless prank she played on her toddler at lunchtime. In the video, Carson waits for lunch at his Paw Patrol table. The voice-over plays, "give your kid an empty plate and see how they react," as Kellie places an empty plate and fork in front of him. This is a challenge that's been floating around TikTok for a bit, but no one was ready for Carson.
"Oh no, mom," Carson says in the video, looking confused by the empty plate. "My food is gone!"
"What happened?" he asks with a sad look on his face.
"I don't know," Kellie replies.
And this is the part where parents are supposed to giggle. Everyone would expect the child to throw a tantrum or say something back. It looks like Carson is on the brink of tears. But, instead, he looks up at mom behind the camera and says, "That's okay. That's okay."
It's at that moment that collective hearts crack because Carson might be the most grateful child ever. His mom assured him she will go get his food, and he shook it all off and said, "OK."
The video went viral on TikTok and has racked up over 19.5 million views. Thousands of people left comments for Kellie and Carson with their own reactions to this video. Now, it's impossible to not smile at this video, especially watching him go through the stages of upset through acceptance.
What makes this video more adorable is this wasn't just a one-off reaction. Scrolling through the other videos Kellie has shared of Carson, he really is that sweet.
This article was originally published on