A Woman Gave Birth to a Baby that Was Frozen as an Embryo 24 Years Ago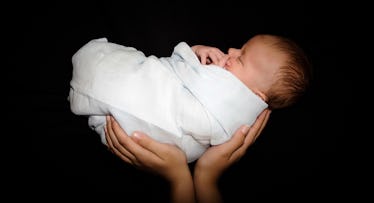 On October 24, 1992, an embryo donated by a 25-year-old woman was frozen and then cryopreserved for the next 24 years. On November 25th, 2017 it became Emma Wren, who was born via a frozen embryo transfer performed by Dr. Jeffrey Keenan, the Medical Director at the National Embryo Donation Center (NEDC) in Knoxville, Tennessee on March 15. Emma was born to Tina and Benjamin Gibson, who probably didn't realize the 24-year-old embryo they ended up receiving now holds the World Record for the longest-frozen embryo to come to birth.
"Emma is such a sweet miracle," new father Benjamin said. "I think she looks pretty perfect to have been frozen all those years ago."
Tina explained her shock when she found out how long the embryo had been cryopreserved, as it was frozen only a year after Tina was born.
"Do you realize I'm only 25? This embryo and I could have been best friends," Tina said.
According to the National Fertility Support Center, the world's first baby to be born after being frozen as an embryo was in 1984 in Australia. And while babies being conceived with the help of IVF or embryo donation may not be the norm, they are becoming increasingly common. In 2012, births conceived with the help of IVF reached an all-time high with more than more than 61,000 babies conceived with the help of IVF. It's also believed that the number of births by embryo donation has increased by about 25 percent every year since then, according to the Embryo Adoption Awareness Center.
But ultimately, the new mom and dad don't really care about the record or where their baby came from or how long it was cryopreserved. They are just happy to be parents.
"I just wanted a baby. I don't care if it's a world record or not," Tina told CNN.
This article was originally published on