Why Everyone Is Losing It Over This Resurfaced Elmo Clip
Unhinged Elmo is hilarious.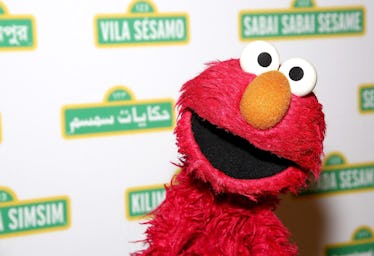 Paul Zimmerman/WireImage/Getty Images
Generally speaking, when parents have kids under the age of seven at home, they're deep in the world of Sesame Street. Their mornings are full of listening to Elmo and Big Bird but when the kids grow, that phase of life is gone. But for thousands of people on Twitter, a resurfaced clip of Elmo brought that world right back to everyone. The clip has gone viral, everyone is losing it, and here's what you need to know to get up to speed.
Where did the viral Elmo clip come from?
Much like most resurfaced video clips, this one featuring Elmo seemed to come out of no where. Twitter user cheye (dr.booty) @wumbooty shared a clip of a 2004 episode of Sesame Street. The 35-second clip features the red guy and his friend Zoe, plus her pet rock Rocco.
What happens in the viral Elmo clip?
In the clip, Elmo is hanging out with Zoe and their friend Gabi bakes them a batch of cookies to share. Gabi was out of oatmeal raisin cookies, Elmo's favorite, so he reached for the last oatmeal cookie placed in front of Rocco, the rock.
Zoe quickly stopped him and reminded him that the cookie is Rocco's and he's not welcomed to just take it. And the typically patient Elmo lost his mind. Straight up was done with Zoe's pet rock and her continued insistence that the rock is anything but a rock.
And he goes off. "How?! How is Rocco gonna eat that cookie, Zoe?" Elmo said. "Tell Elmo! Rocco doesn't even have a mouth! Rocco's just a rock! Rocco's not alive!"
Why is everyone losing it over the clip?
Elmo is one of the most popular Sesame Street characters who helps teach kids about life skills including how to talk to friends, navigate communication issues, and sharing, too. With that being his M.O., seeing him completely unhinged, losing his mind at Zoe is a little cathartic to watch. Even the most patient of creatures has a breaking point.
And Elmo showed his. And it's hilarious.
His feud with Rocco is a long-running one. When the rock was first introduced in 1999, it was clear right away that Elmo didn't care for Rocco – or Zoe's continued push that Rocco should be treated like something that's alive.
As much as we're LOLing at him losing his sh*t, he took to Twitter to share that he and Zoe are still friends. "Elmo doesn't want to talk about Rocco," though.