Elf on the Shelf Can't Catch COVID, But We've Got Some Questions
The creators of Elf on the Shelf have claimed Santa has magically made the elves COVID-immune.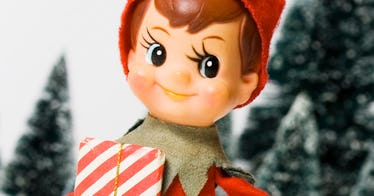 Recently, the company behind "Elf on a Shelf" issued the following statement: "This Just In… Santa Certifies the Elf of the Shelf Can't Catch COVID."
It made us chuckle and smile. And then there's the rest of the press release, from the PR firm representing the Lumistella Company. The copy offers some more holly jolly humor for adults who can, in turn, use it soothe the jangled real-world nerves of their kids:"The Lumistella Company, home of The Elf on the Shelf, has received a verified statement from Santa Claus regarding the matter: 'All Scout Elves are 100% healthy, and since they are magical beings from the North Pole, they do not get human sicknesses and do not need to quarantine or wear masks; But they do like to set a good example for humans and may choose to model safety protocols for their families. In a year when many are longing for a comforting return to the celebrations of the season, Santa's Scout Elves are ready to bring joy and good cheer to all!'"Readers are then guided to the "Santa-approved" Frolic and Frost blog, a full-on site brimming with bright and bubbly images, separate sections for adults and kids, and, not surprisingly, a store. But, keeping with the concept of making a tasty lemonade from COVID lemons, the site provides elf quarantine suggestions, a mini-letter for elves to leave out for their families and, best/cutest of all, free patterns and instructions for making masks to protect a family's favorite Elves on the Shelf. Now, we could go all old-school Scrooge McDuck here and tease the Lumistella Company for not actually producing and selling mini-masks of Elves on the Shelves wearing masks. But it's too early in the season – hell, I haven't even heard "All I Want for Christmas" yet or seen a holiday-themed Hershey's Kiss commercial yet – to drop a chunk of coal in anyone's Christmas stocking.
This article was originally published on