New Study Sheds Light On Long-Term Effects Of Elective Induction Of Labor
Children who were born after induction of later scored lower on a standardized test at age 12, and were less likely to be recommended for college, a recent study found.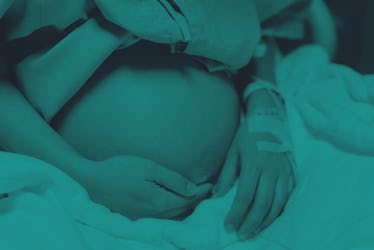 skaman306/Moment/Getty Images
Sometimes, as a matter of convenience — like if they live far from a hospital or have a history of quickly delivering babies — a pregnant person may choose to schedule a time to get labor electively induced so they know exactly when they're going to deliver their baby and ensure they'll be in the hospital to do so. A new study may give some parents pause to do just that.
Children born after elective induction have lower test scores 12 years later, according to the new study, published in the journal Acta Obstetricia Et Gynecologica Scandinavica. The difference in test scores between children who were delivered after elective induction and those who weren't was small — but it was statistically significant.
"While the impact on the individual child may be small this could lead to a potentially large impact on society, given the increasing number of elective inductions," study author Renee Burger, a Ph.D. candidate at the Department of Obstetrics at Amsterdam UMC, said in a press release.
The study was conducted on 226,684 Dutch children. In the Netherlands, children take a standardized test at age 12 to inform which of the four levels of secondary school they should attend based on their intellectual ability. When comparing test results and secondary school placement to whether a child was delivered after elective induction or a wait-and-see approach, the researchers compared kids who were born in the same week of pregnancy, and they only included children born in low-risk pregnancies with no complications. They also only included white children "because of ethnic differences in both gestational age distributions and school performance scores," the authors wrote.
Of the 12-year-olds, 10% fewer of those born after elective induction were recommended for a school track leading them to university than children born without induction.
The difference in average cognitive ability between the two groups may be because induction of labor, by definition, shortens how long a pregnancy is. "As duration of pregnancy is strongly associated with brain development and school performance, it is likely that duration of pregnancy and associated brain maturation is the factor driving the difference in school performance between the induction and non-intervention group," the researchers wrote.
It's important to note, however, that some studies do show some benefits of voluntary induction before 41 weeks — namely, a small risk reduction in serious health problems in the newborn and a small reduction in the risk of baby's death shortly before or after birth.
"The tricky part is that the previous studies all looked at short-term outcomes: Infant death and serious problems shortly after birth. None of the studies look at the long-term effects of induction on the child, such as cognitive development," study author Wessel Ganzevoort, M.D., Ph.D., a gynecologist and professor at Amsterdam UMC's Department of Obstetrics, said in a press release.
A 2018 study found that elective induction didn't affect birth outcomes, but it did reduce the need for C-sections, which has since led to a global increase in elective inductions. In the United States, about 30% of births were induced (electively and not) in 2021.
Not all experts are convinced by the new study. Eran Bornstein, M.D., vice chair of obstetrics and gynecology at Lenox Hill Hospital in New York City, told U.S. News, "Although these results are interesting and may generate hypotheses for the association between induction and slightly lower school performance, I would urge caution in interpretation as a cause-and-effect is not clear," he said.
Based on past research and the new study, the study researchers don't recommend against elective induction — but they do say it should be used with caution.