Couple Faces Up to 30 Years in Prison After Gender Reveal Starts Deadly Wildfire
They have been charged with 30 crimes, including involuntary manslaughter.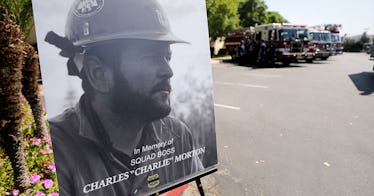 GETTY
A couple is facing serious consequences after their gender reveal party took a disastrous turn that resulted in the death of a firefighter.
Refugio Manuel Jimenez Jr. and Angela Renee Jimenez set off a smoke bomb in Yucaipa, California last September in order to reveal the sex of their baby to friends and family. But it ended up starting the El Dorado Fire, which resulted in 23,000 acres of land burning, including five homes and 15 buildings. Thirteen people were injured by the fire and 18-year firefighting veteran Charles Morton died while serving as the Squad Boss for the Big Bear Interagency Hotshot Crew of the San Bernardino National Forest.
"Obviously, [Morton] wouldn't have been out there if this hadn't started in the first place," San Bernardino County District Attorney Jason Anderson said. "He's fighting a fire that was started because of a smoke bomb. That's the only reason he's there."
The investigation took over a year, which Anderson said was because they needed to assess the damage "both financially and psychologically." Now, the couple has been charged with 30 crimes, including involuntary manslaughter for Morton's death, along with three felony counts of recklessly causing a fire with great bodily injury, four felony counts of recklessly causing a fire to inhabited structures, and 22 misdemeanor counts of recklessly causing fire to property of another.
Refugio and Angela pled not guilty to charges in court and they have another court hearing date in September. They could face up to 30 years in prison if convicted.
Gender reveal parties were created to be a fun way for expecting parents to announce the sex of their baby to their loved ones but the spectacle has continued to grow, especially due to social media. And as the announcements have gotten bigger and bigger, things have started to get out of control and, in this case, someone's life was lost.