A 6-Year-Old Was Hospitalized After Accidentally Eating Weed. Edibles Packaging is To Blame
A mom of a 6-year-old girl who accidentally ate a marijuana gummy is calling for regulation of edibles packaging. Hear hear.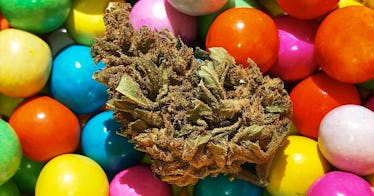 GETTY
A mom to a 6-year-old girl is sounding the alarm on confusing marijuana edible packaging after she had to take her daughter to the ER because she accidentally ate a marijuana gummy in candy-like packaging.
Morgan McCoy, who spent the night in the emergency room with her daughter, said her daughter also had a seizure as a result of ingesting the drug. She shared her experience on Facebook to talk about the dangers of the packaging of marijuana edibles.
McCoy explained that they were visiting friends and family over the weekend in a now-viral Facebook post, and that one parent, a medical marijuana patient, had a weed gummy that they ultimately put in a dresser in the bedroom they were staying in, and that her kid — who usually stayed in that room — went looking for her clothes, she saw the gummy and ate it, thinking it was candy.
The candy McCoy's 6-year-old daughter ate had "Hawaiian Punch" written on it and while the packaging did say the gummies were "cannabis-infused," no six-year-old is going to understand what that means. The parents spent the night in the hospital.
The Problem With Marijuana Packaging
Though her daughter is okay, McCoy is using the incident to shine a light on a problem that could continue to harm more kids: the lack of federal legalization and regulation of marijuana, and edibles, has allowed companies, legal and or not, to package their products in ways that can be confusing and attractive to kids, and ultimately lead to harm.
Per Today, the American Association of Poison Control has seen a growing number of calls about kids 12 and under accidentally ingesting marijuana or marijuana products. In 2019, per the publication, the AAPCC got almost 2,800 calls about kids being exposed to marijuana, and in 2020, over 5,000. To understand the level of risk, from 2017-2018, there were 11,000 emergency department visits from kids taking pain relievers.
While there's some belief that the increase in calls could be because, in states where marijuana is legalized, parents feel less nervous about calling poison control, there's also a large concern in the industry about marijuana products that use packaging to look almost exactly like candy or that don't have child safety measures, like what McCoy's daughter accidentally ate.
The Candy Industry Responds
In May of 2021, the New York Times reported on a growing problem in the candy industry, and that problem is edible doppelgangers. Zombie Skittles, a kind of Skittle, have a marijuana doppelganger that looks nearly identical but with marijuana leaf symbols all over it; the Starburst doppelganger called Cannaburst, with a very similar packaging design that could fool a child, a package of "Lifesavers" say "Medicated" and look nearly the exact same.
"When we look at accidental consumption, edibles are a primary issue. A young person won't accidentally smoke" a joint, Andrew Brisbo, who works at the Marijuana Regulatory Agency in Michigan, told the New York Times.
One Colorado company, Wana, that sells edibles, that uses plastic pill-like bottles without fun packaging, said to the publication, "When companies like these create headlines for doing what we've purposely avoided at Wana, I feel anger and frustration."
Part of the problem is the lack of federal regulation of marijuana and marijuana products that don't delineate what companies can and can't put on their pot packaging. In the meantime, major companies go after the weed distributors, and slowly, companies pull the products off shelves.
Federal regulation would take the wind out of the sails of brand copiers more quickly and help make weed products be packaged and marketed in a secure, not flashy way, and not attractive to children.
What's Really Needed: Federal Regulation of Marijuana Products
McCoy's main point in the scary episode with her child is that marijuana edible products must be labeled and way more clearly and that the packaging is a problem. "There are always going to be kids who get into things that they shouldn't," she told Today. "And unless we fix the packaging, [the problem of kids accidentally eating weed] is going to keep increasing and increasing."
The New York Times' own investigation found that different areas have different regulations as to what won't, and will, be allowed on candy packaging. While major companies like Mars, Hershey, Mondelez International, and Ferrara Candy Company sue edible-makers who use their likenesses to oblivion, and many legal weed companies are getting ahead of the problem by ensuring they remain legally and ethically above board by not replicating popular candy brands, there's a less piecemeal way to solve the problem: federal legalization of, and regulation of, the packaging and marketing of edibles and weed.
The weed candy problem isn't one that is going to be solved overnight, so in the meantime, safe storage is paramount.
Safe storage of marijuana is important regardless of whether or not you have kids — but especially important if you do. Keeping weed and weed products out of sight and reach of children is the number one priority. Lockable cabinets, locked medical bags, child-proof tins that require tons of dexterity, a tackle box with a lock, and more are the best ways to keep weed products out of the hands of kids. Make sure weed is not just stored in locked containers but far out of reach, and sight, of curious children, in order to keep them safe.
This article was originally published on