Early 'Joker' Screening Receives a Standing Ovation. But Are the Reviews Good?
The new anti-superhero film is getting crazy mixed reviews. Some love it. Some hate it. What's really going on?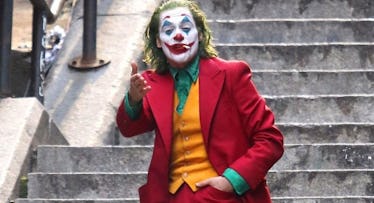 Credit: Warner Bros
As the titular clown prince of crime in Joker, Joaquin Phoenix has given the performance of a lifetime and ushered-in a new type of comic book movie, on par with the super-popular and grittily realistic Logan. Or has he? Though the upcoming quasi-Batman prequel has just received standing ovations during at least one early screening, the early buzz for Joker is anything but straightforward.
Here's what reviews are saying and what it all might mean. Spoiler alert: Nobody will want to take their kids to this. Period.
Over the weekend, at the Venice Film Festival, the new Joker movie reportedly received an 8-minute standing ovation, proving either people love dark-and-gritty movies about the Joker, or that they love Joaquin Phoenix. Here's how the reviews actually breakdown.
The Good
Those of have seen Joker and love it are mostly focusing on the idea that it's a great, dark, Taxi Driver-ish movie that tackles the problems of the world with a kind of unflinching approach.
Writing for Time Out, Philip De Semlyen said:
"This is a truly nightmarish vision of late-era capitalism – arguably the best social horror film since Get Out – and Joaquin Phoenix is magnetic in it."
Similar praise came from Xan Brooks at the Guadian, writing:
"Having brazenly plundered the films of Scorsese, Phillips fashions stolen ingredients into something new, so that what began as a gleeful cosplay session turns progressively more dangerous – and somehow more relevant, too."
Okay, so you get it. The people who love Joker are saying it's like an old-school crime movie, that just happens to be connected to a big and famous comic book baddie. However…
The Bad
The other side of this is that a lot of critics are pointing out that Joker has nothing to say, and that in the current climate of concerns about male toxicity and violence, that the movie seems unable to really deliver any kind of real message about its anti-hero.
Writing for The Wrap, Alonso Duralde said:
"If you strip the Joker and his nearly 80-year history as a cultural icon out of this film, as well as all the 1970s movie homages, there's not a whole lot left except for Phoenix's performance, and it's the kind of turn that's destined to be divisive."
Over on RobertEbert.com, Glenn Kenny was less kind writing :
"As social commentary, Joker is pernicious garbage."
So which is it? Is Joker the new Logan, only really evil? Or is it only going to be popular with the kinds of people who already believe the concept of the Joker is edgy and interesting? Right now, it's tough to say, but one this is certain. Come October 4, everyone is going to have an opinion.
This article was originally published on