This Bald Eagle Who Adopted A Rock "Egg" Just Had His Dad Dreams Come True
Meet Murphy, a bald eagle that felt the urge to be a father.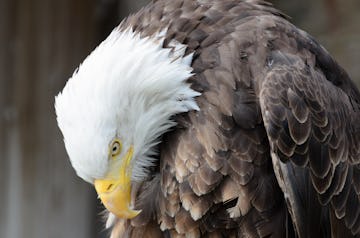 Helmut Heyer / 500px/500Px Plus/Getty Images
We likely all know someone who felt they were born to be a parent well before they actually became one. Sometimes, those people who are born for parenthood aren't really people at all — at least according to one viral story about a bald eagle who felt the undeniable urge to become a father.
Enter Murphy, a bald eagle who lives at the World Bird Sanctuary in Valley Park, Missouri, per the New York Times.
Murphy went viral a few weeks ago after nesting an egg tirelessly that turned out not to be an egg at all, but a rock. He built a nest and spent hours doting over his "egg." He sat on it to keep it warm, he rotated his "egg" with a gentleness of a loving dad.
"He lay in the one spot all day, rising to squawk and charge at the other birds that dared to come near his nest at the World Bird Sanctuary in Valley Park, Mo.," the New York Times wrote. No matter whether or not his baby was real, Murphy was happy to dote, on his rock egg, until fate stepped in and presented an opportunity for the 31-year-old eagle to be a dad for real.
A baby eagle had been found, orphaned at only a week or two old, after a storm that threw him out of his tree. The sanctuary brought him in and knew exactly who to tap in to help give the little chick some love—Murphy.
"It was then decided that we would give Murphy a chance at fostering the eaglet," the World Bird Sanctuary shared in a Facebook post.
"Murphy's dad instincts were already in high gear, but at 31 years old, he had never raised a chick before. It's definitely a gamble, but also the chick's best chance."
The sanctuary took the rock egg and introduced the chick into the enclosure (but in a protective case) while staff watched how Murphy reacted to the little one—to make sure they would both be safe.
By April 11, the sanctuary shared that the baby was introduced to Murphy's enclosure, and his dad instincts were in full force.
"Murphy has displayed the behavior we were looking for. He has responded to the peeps of the baby and begun protecting the area," they shared.
And on April 15, the two were officially bonding. "Murphy and his new charge are bonding beautifully," a new social update shared.
"In these videos, if you watch carefully, you can see Murphy waiting for the baby to eat. When the baby doesn't eat right away, he takes a bit of food, and then the baby begins to eat. This is the kind of bonding we're looking for."
It sounds like everything is working out beautifully. "Murphy is modeling eagle behavior perfectly and becoming a wonderful, gentle papa."
You can keep updated on Murphy and his baby on Facebook.