Dwayne 'The Rock' Johnson Thanks Paramedics After His Daughter Lands In ER
While not going into detail, the Rock offers some heartfelt gratitude in an a video posted on Instagram.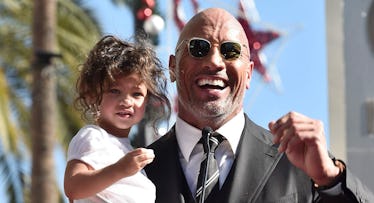 Getty Images
Yesterday, Dwayne "The Rock" Johnson posted a video on Instagram thanking LAFD first responders and the UCLA medical team for taking care of his daughter Jasmine in the hospital this weekend. In the video, Johnson reassured his fans that his two-year-old girl is perfectly fine but was rushed to the E.R. on Saturday night after suffering an unspecified emergency.
While short on details, the Rock explained the situation as such: "This past Saturday night, something happened to me and my family that I would never want to happen to any of you, but, of course, emergencies do happen. We were up all night with something scary that happened with our little baby girl Jasmine, who is okay now."
Fortunately, the medical professionals did a fantastic job taking care of Jasmine and Johnson was so impressed by their hard work and kindness that he had to give a shout-out. Along with the emotional video, Johnson included a caption that read, "Things got a lil' hairy this weekend. Thank you LAFD first responders & UCLA medical team. We're grateful to you all and if you ever need anything, I got your back."
Johnson wasn't done yet, however, and concluded with some words of wisdom to any other parent who finds themselves in a similar situation.
"To all you mommies and daddies out there, when emergencies like this happen, I would just highly recommend that you stay as calm and as focused as possible because our little babies energetically, they pick up on what we're putting out —especially in times of stress," Johnson said.
This article was originally published on