Dwayne Johnson Bravely Comes Out in Favor of Showering 3X A Day
The celebrity hygiene war is heating up.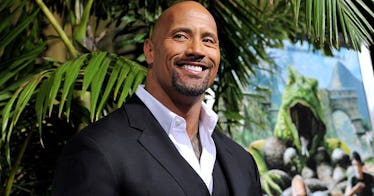 GETTY
In the celebrity crusade against bathing, Dwayne Johnson has taken a firm stance in favor of washing yourself on a daily basis.
Someone on Twitter said the beloved actor "can't possibly be one of those stinky ones" in reference to the slew of celebs who have proudly declared themselves as anti-showering. Johnson confirmed the suspicion, saying that he was "the opposite of a 'not washing themselves' celeb."
"Shower (cold) when I roll outta bed to get my day rollin'… shower (warm) after my workout before work… shower (hot) after I get home from work," Johnson tweeted. "Face wash, body wash, exfoliate and I sing (off key) in the shower."
So not only is Johnson team shower, he might be the team captain based on the revelation that he regularly showers three times a day. Some even suggested that Johnson's affinity for showering may be over-the-top but he clarified that he only showers that much because of how much he works out to keep his statuesque body in tip-top shape.
"I workout twice a day and then I go to work for 12+ hours," Johnson explained. "I shower 3xs. Easy to understand."
If you are confused by why we are discussing Johnson's showering habits, it all started when Kristen Bell revealed that she and husband Dax Shepard have a laissez-faire approach to cleaning their kids, saying that they believe in "waiting for the stink" before making them hop in the bath or shower.
Bell's admission sparked other celebrities to begin admitting that they have a similar view on hygiene, with Jake Gyllenhaal arguing that "we naturally clean ourselves." Mila Kunis and Ashton Kutcher noted they only bathe their kids when they're visibly dirty, and Ashton Kutcher himself said last month on Shepard's podcast that "I wash my armpits and my crotch daily, and nothing else ever."