Meet the 8th Grade Student Fighting 'Sexist,' 'Racist' Dress Code
Her weekly protest is making moves.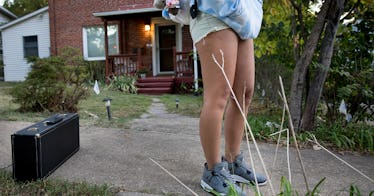 GETTY
As kids re-enter school buildings, the age-old stories of girls being sent home from school or pulled from class because their shoulders are exposed or their shorts are too short have once again resurfaced.
While there's tons of research that shows that the way that dress codes are enforced primarily affects young girls negatively —who learn early on to police their own bodies for boys and for the adults around them — dress codes are still being enforced everywhere and the primary targets are girls. And one eighth-grade student isn't quiet when it comes to how she feels about them.
Sophia Trevino, a 13-year-old student who attends Simpson Middle School in Cobb County, Georgia, has received dress code violations several times. One of her most recent times was her very recent first day of eighth grade. A teacher flagged her outfit as inappropriate — she was wearing a white t-shirt, a new pair of black distressed jeans, and sneakers.
"Lined up with other students as they came into the school, Sophia was asked to put her hands down by her thighs to measure if the rip in her jeans was lower than her fingertips," the New York Times reports. "It was not. She and 15 other girls were written up before first period."
Since then, Sophia and other students at the middle school have taken an active stand against dress codes. The students are wearing t-shirts that specifically call the dress code rules "sexist," "racist," and "classist."
The New York Times reports the dress code of the Simpson Middle School states, "all shorts, skirts, and dresses must be fingertip length." The code also says that "no skin may be exposed above the fingertip." In general, Sophia's main problem with the dress code is that it's primarily targeted at girls and puts the onus on them for how the boys behave. Also, to be totally fair, a pair of distressed jeans does not an exposed kid make.
"In school, they think that the boys are just drooling over our shoulders and our thighs," Sophia said. "They aren't. They don't care. And even if they do, that's not our fault. That's theirs."
Of course, we know that this school isn't the only one with dress codes that unfairly target how girls dress and are by design racist, sexist, and classist. It's an issue across several states. Viral TikToks, like one Fatherly wrote about last week, have shown that boys and girls can even be wearing nearly the exact same outfit and girls are still targeted by school employees for being dressed "inappropriately." And Sophia's protest is making a difference.
In the end, Sophia hopes to have the school district's dress code changed. She wants it to be more gender-neutral and inclusive. And it doesn't have to be complicated. Instead, she says, a dress code that simply states: "shirts, bottoms, shoes" is all that's needed. Indeed, that seems like a dress code that models a safe and appropriate learning environment.