Drake's 4-Year-Old Vows to Become Bigger than Dad in Adorable Viral Video
"Do you think you're going to be bigger than me?"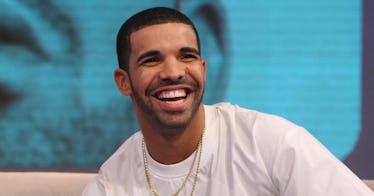 Bennett Raglin/BET / Contributor / Getty Images
There are some kids who are destined for the spotlight, and it sounds like one little man is already well on his way. Drake, a superstar in every way, has a 4-year-old son who has vowed to become bigger than his dad in an adorable viral video.
Drake shared a clip to Instagram of a conversation he was having with his son, Adonis Graham, at their home in Toronto. Adonis asked his dad if he was going to be "much bigger" than him. It's not clear if he was asking about height or star power, but Adonis was determined that he was going to be bigger than his dad.
"I don't think so," Drake replied. "You're pretty tall. Do you think you're going to be bigger than me?"
Adonis responded, "Yeah. I'm going to be like, old."
As with any young kid, the topic quickly pivoted from there and Adonis asked his dad if he wants him to speak "en Français [in French]." Sophie Brussaux, mom of Adonis, hails from France, so Adonis is bilingual. And he offered his dad some lessons in French.
As Adonis said words in French, Drake repeated, and then Adonis offered a translation, saying, "I said, 'When you're older, you're all broken, and you're gonna turn back into space.'" Drake himself, likely, doesn't speak fluent French, but being in Canada, he would have taken French in school for most of his young years and into high school.
Still, he playfully questioned his son's translation. "Is that really what you said or are you just making stuff up?" he asked. Adonis played it cool, laughed, and opted not to answer his dad's question.
"You're a funny guy," Drake tells his son.
The whole exchange is adorable and it's not surprising so many people smiled along while watching. A cute daddy-son bonding moment.
This article was originally published on