Want to Save for a House Down Payment Quickly? Move To These 10 Cities
It's going to feel impossible for anyone to buy a home, but especially so for first-time buyers.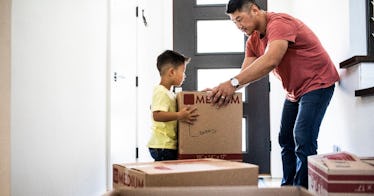 Momo Productions / Getty Images
Saving up enough to have a down payment to put on a home has never been easy. But it feels ridiculously impossible these days. Everything from rent to groceries has grown enormously in price over the past year and change — making getting to the end of the month on a budget harder and harder to do. For parents who are trying to, say, buy their first house, that makes saving for that down payment a little bit tougher. It's a struggle, but if it's a goal of yours, a mortgage-tech startup called Tomo put together data to figure out the cities where one can save money for their down payment as quickly as possible.
There are a lot of factors that are influencing the housing market, making it harder for first-time homebuyers – or anyone – to save up for a down payment. There are not a lot of homes available for sale, to start with. If you do find one, the median price has jumped significantly – up 26.6 percent from the year before.
Another factor is that it's now taking Americans longer to save for a down payment. According to Tomo, it now takes an average of nine years to save enough money to put a down payment on a house. That's a lot of time needed, and it's also getting longer rapidly. Just last year, the average time needed to save for a downpayment was 7.3 years.
These stats show that it's a hard time for anyone to buy a home right now. But it's obvious, too, that first-time homebuyers are going to struggle the most.
"Existing homeowners can move their record equity gains to the next house," said Skylar Olsen, Tomo's principal economist. "But a first-time buyer going for 10% down on the typical home and making the median household income will have to save an extra 1.7 years since the start of the pandemic."
The average time to save for a house is even longer if you wanted to live in one of the country's popular cities. "It takes even longer to save for a home in some of the country's most popular places to live, Tomo said, according to Business Insider. "In Seattle, it takes 13.3 years; in San Francisco, 18.5; and in Los Angeles, 19.9."
Looking into the data further, Tomo realized that there are some cities across the country that are more affordable. And probably a lot easier for first-time homebuyers to save up enough for a down payment. "The more affordable cities to save in, on the other hand, are mostly located in the Midwest or in states along the East Coast," Business Insider said. "Ohio and New York have multiple cities on the list."
So, which cities are ones you might want to move to if you want to buy a house because it takes less time to save for a down payment?
Youngstown, Ohio, with an average 5.4 years to save
McAllen, Texas, with an average 5.4 years to save
Syracuse, New York, with an average 5.5 years to save
Toledo, Ohio, with an average 5.6 years to save
Wichita, Kansas, with an average 5.6 years to save
Dayton, Ohio, with an average 5.9 years to save
Scranton, Pennsylvania, with an average 6 years to save
Akron, Ohio, with an average 6 years to save
Rochester, New York, with an average 6.1 years to save
Little Rock, Arkansas, with an average 6.1 years to save
This article was originally published on