Doug Emhoff and Dr. Jill Biden Are Flipping White House Gender Roles
Doug Emhoff is the first-ever Second Gentleman. Dr. Biden is the first ever FLOTUS to keep her job.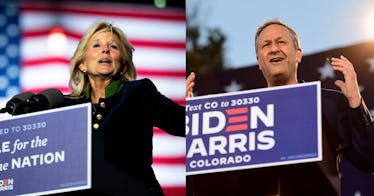 Getty
Future First Lady Dr. Jill Biden and future Second Gentleman Doug Emhoff are flipping gender roles upside down as they prepare for their roles as White House members.
In the days following the election, in which voters decided that Joe Biden would be President-elect and Kamala Harris Vice President-Elect, an interview in August where Dr. Jill Biden announced she would continue teaching if her husband was elected resurfaced. Dr. Biden, who works as a college professor, in short, has no intentions of quitting her job and upending her life to support her husband's transition into the presidency.
As a teacher who has been in the classroom for 30 years, her career is as important as her husband's. As a result of the fact that she will refuse to step down from teaching, FLOTUS Dr. Jill Biden has been widely considered as the first-ever First Lady to keep her job while ascending to the White House. For the first time in 231 years, a First Lady will have a job outside of duties partaken while in service of the American people.
On the other hand, Second Gentleman Doug Emhoff is breaking down barriers. Namely, he's the first-ever Second Gentleman in American history. There's never been a woman in either the Vice President or President position since America was founded. That is huge in and of itself.
But Emhoff, who works as a lawyer at a corporate law firm called DLA Piper, is also breaking barriers in that he's stepping down from his day job — to focus on his sacred duties as Second Gentleman. While FLOTUS Jill will continue her work as a professor, Emhoff will take on the more traditional spousal role for the White House administration — flipping all of the gender roles that anyone had ever expected for an already norm-defying presidency.
Emhoff also is stepping down because DLA Piper lobbies the federal government and that would create conflicts of interest, per Insider. Still, if he wanted, he could look for another job in law. And yet, he's going to take on an extremely traditional role that's basically immediately made non-traditional on the virtue of the fact that he is a man. That's good stuff.
The reality is that both the First and Second spousal figures in the White House could do with some modernizing and bringing into the 21st century. Spouses earn no salary, have no official responsibilities, and have no job description. Over the past few decades, First Ladies and Second Ladies (because that's really all there have been until this point) have moved into advocacy roles, like Michelle Obama's Let's Move Campaign or Melania Trump's ill-advised Be Best anti-bullying work.
Emhoff and Dr. Jill Biden have the opportunity to expand upon what it means to be a White House Spouse — and reflect the diverse breadth of experiences and reality of what it means to be a part of a working American family today. And sometimes that looks like husbands quitting their jobs to support their wives, and wives continuing to further their career as their husbands grow in their own. It's great to see it in a position of power and visibility in the United States.