The Guy Who Wrote "American Pie" Has Strong Feelings About Meghan Markle and Harry
Everyone has an opinion about the royals.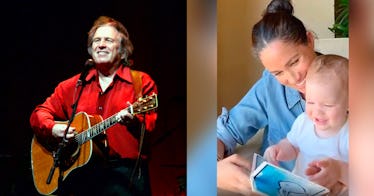 Courtesy of Don Mclean; Megan Markle/Instagram
It seems like just about everyone has strongly held opinions about Prince Harry and Meghan Markle — from American chick-lit authors to the President — and Don McLean, otherwise known as the singer-songwriter behind "American Pie" has come out with his own two-cents about the former royal's move to Los Angeles.
"I think they should live with their hearts tell them to live and do what their instincts dictate," Don McLean told Fox News, for some reason. He also pointed out that the press hunted Princess Diana, Harry's mother, to death in 1997 when she died in a fatal car crash trying to evade the paparazzi.
He might have brought up the royal couple because they played "And I Love You So" at their wedding in 2018, which McLean considers as proof that they have a "great love" and will do very well in America. He also gave the couple credit for "going it alone" in America, as that's a very American thing to do.
It's a very nice sentiment from McLean, if somewhat out of left field, but the royal couple likely appreciates all of the public support they can get, as unfair treatment of Markle was potentially part of what motivated Harry's decision to extricate his family from the royals and move to a more private life for their son, Archie, who just turned 1. Since their move, Harry and Meghan have helped out with charities in the area like Project Angel Food and have generally kept a low profile.
This article was originally published on