Dolly Parton Wishes Her Husband Happy Birthday as Playboy Bunny
It's time for a Hot Girl summer!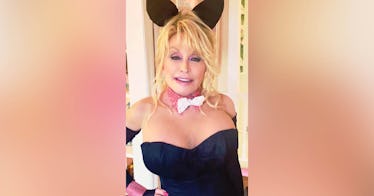 Dolly Parton is celebrating her husband's birthday with a playful throwback to her days as a Playboy bunny.
At 75 years old, Dolly is still as adorable and playful as ever. To mark her husband, Carl Thomas Dean's 79th birthday, the music star took to social media to celebrate his special day. And she did so by re-creating a look she rocked 43 years ago when she was on the cover of Playboy magazine.
Dressed up in the brand's iconic bunny ears, a pink bowtie, black bustier, and black gloves, her birthday outfit mimics the one she wore decades earlier for the magazine cover. Fun fact, Dolly's original bunny outfit was designed by Keanu Reeves' mom (and Keanu admitted to wearing the outfit for Halloween when he was in high school).
The 10-time Grammy winner posted a video of herself dressed in the outfit as she explains the idea behind the birthday gift to her fans. Still dressed in the bunny outfit, Dolly hands her husband, whom she's been married to since 1966, a picture frame of the original issue alongside a recreation of the iconic cover.
"You're probably wondering why I'm dressed like this. Well, it's for my husband's birthday," she said in the now-viral video. "Remember some time back I said I was gonna pose on Playboy magazine when I'm 75? Well, I'm 75, and they don't have a magazine anymore, but my husband always loved the original cover of Playboy."
"I was trying to think of something to do to make him happy," she added. "He still thinks I'm a hot chick after 57 years, and I'm not gonna try to talk him out of that."
The music legend said that she re-created the look and "had a cover made of the new Dolly." Then, playfully adding that she was "kind of a little butterball," in the original cover from Playboy's October 1978 issue when she was 32 years old.
"Well, I'm string cheese now," she joked. "But he'll probably be thinking I'm cream cheese, I hope."
Dolly rocks the iconic look, whether she's 32 years old or 75. So not surprisingly, the video of her birthday gift to her husband went viral, racking up more than 5 million views on Twitter and over 2 million on Instagram. She's still got it!