DOJ Files Emergency Court Order to Block Texas Abortion Law
The emergency order noted that 646% more patients from Texas have flooded out of state clinics in recent weeks.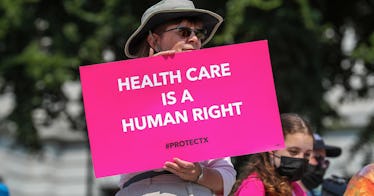 GETTY
In the late hours of Tuesday, September 15, the Department of Justice (DOJ) requested an emergency court order to block SB 8, the near-total abortion ban in Texas, from taking effect. The request by the DOJ amounts to a temporary restraining order and is the second legal action the department has made to prevent the abortion law. Last week, the DOJ filed a lawsuit against the law, this week, their emergency court order, filed in the Austin, Texas U.S. District Court, says that SB 8, the anti-abortion law, prevents "women from exercising their constitutional rights."
SB 8, also known as the heartbeat bill, bans abortion at six weeks (amounting to an outright ban of nearly 90 percent of abortions in the state) and deputizes individual citizens to find abortion abetters and sue them in state courts. Individual who find abetters receive incentive payments of $10,000. As a result of the bill has effectively overturned Roe vs. Wade.
The DOJ filing claims: "This relief is necessary to protect the constitutional rights of women and the sovereign interest of the United States…Not only has SB 8 imperiled the rights of Texas residents; it has had an extreme impact on the rights of women in other states, including in Oklahoma, Kansas, Colorado, Nevada, and New Mexico."
The motion notes that since SB 8 took effect just 14 days ago, abortion clinics in the state of Oklahoma have seen an increase of 646 percent of patients from Texas compared to the first six months of 2021.
How the District Court will respond to the emergency request is still up in the air.
SB 8 became law on September 1 after the Supreme Court declined to issue a judgment on it. The night after the bill became law, the Court said they would not weigh-in, and also did not conclude whether the law is constitutional or not. In the meantime, the Supreme Court's inaction has effectively overturned Roe v. Wade, as no doubt, other Republican-led states will attempt to create and pass their own SB 8 bills.
The right to an abortion will be one decided along state lines, leaving many poor and working-class women and people who can get pregnant unable to choose their futures as they won't be able to afford to travel out of the state once their rights are effectively limited. The results will be disastrous for women and working parents everywhere.
In the meantime, the DOJ's emergency order could become part of a long legal battle to preserve the constitutional right that goes all the way back to the Supreme Court.
This article was originally published on