Doc Antle, True Villain of 'Tiger King,' Has Finally Been Arrested
He's facing 15 charges and his daughters have been charged, too.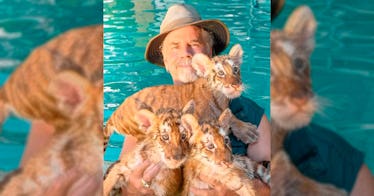 docantle/instagram
The Netflix documentary Tiger King came out when we needed some distraction from what was going on in the world. We debated if Carole Baskin really had anything to do with her husband's disappearance, quoted the hilarious lines from the Tiger King himself, and sort of learned a little bit about tiger conservation, or at least how not to do it. Months later, the real villain of the documentary has been arrested. Finally. And who is that? Well, it's Doc Antle, of course.
According to The Wrap, "Doc" Bhagavan Antle, who we know as "Doc" Antle from the docuseries, has been arrested, and he faces a whole slew of charges related to his mistreatment of animals. Doc owns the Myrtle Beach Safari, a cub-petting zoo of sorts for tigers that allows guests to pet and hold tiger cubs.
The zoo has been around for 37 years, which Doc runs with his three girlfriends and his children. But playtime is over, and Doc now faces 15 charges, including 2 felonies and 13 misdemeanor charges—all related to wildlife trafficking and animal cruelty.
On Oct. 8, the Virginia Attorney General's office charged Doc Antle with one felony count of wildlife trafficking, one felony count of conspiracy to traffic wildlife, four misdemeanor counts of conspiracy to violate the Endangered Species Act, and nine misdemeanor counts of animal cruelty.
"I categorically deny any act or conduct that could ever be considered as 'animal cruelty,'" Doc Antle said in a statement, according to The New York Times. "I have spent my entire professional life promoting the welfare and conservation of big cats and other species."
The charges come after a months-long investigation into the illegal transporting and selling of lions that happened between Doc Antle and Keith Wilson, owner of the Winchester, Virginia's Wilson's Wild Animal Park. He has been indicted on the same charges that Doc faces, plus four conspiracy counts. This is all in addition to Wilson's 46 counts of animal cruelty charges relating to a Nov. 2019 raid and confiscation of 119 of his animals, since it's illegal to sell lions across state lines.
Two of Doc Antle's daughters are also facing legal troubles. They've been indicted on misdemeanor counts of cruelty to animals and violating the Endangered Species Act for their alleged role in the treatment of animals at their dad's facility.
After Netflix's Tiger King came out, most of the viral focus was on "Joe Exotic," who is currently serving 22 years in prison for conspiracy to murder related to his threats against Carole Baskin, who was also featured in the docuseries, and for his role in killing tigers. Carole herself became a large focus after she was featured in the series. Still, the curiosity surrounding her was all about the mystery of her missing first husband—not how she treated the big cats at her facility.
In the documentary, Barbara Fisher, who was a former employee of Doc, alleged abuse at the compound he ran. She said she worked there as a teenager, endured horrible treatment, worked long hours, was encouraged to have a sexual relationship with Antle, and was paid $100 a week for 17-hour shifts. She also alleged she was forced to sleep in a horse stall that was infested with cockroaches and he encouraged all of his employees to get boob jobs. In the show, it was also insinuated that Antle had many dead tigers on his property that he killed after they were no longer profitable — i.e. when they had grown out of their cute kitten stage and grew into adulthood. Antle denies those claims.
Doc was largely unspoken about after the series, with people mostly just joking about his lifestyle—including his many wives and searching for a nanny for his kids. But, TBH, he's the true villain of the series, and we're not going to lose any sleep knowing he's finally receiving justice.