Do You Get Paid During a Furlough? The New Normal of Unemployment
What is furlough, and how is it different than being laid off?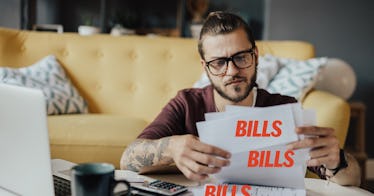 Layoffs have skyrocketed as the economic and public health impacts of the coronavirus pandemic spread across the country. Last week, 3.3 million Americans filed for unemployment. Treasury Secretary Steve Mnuchin suggested that unemployment could reach 20% as small, non-essential businesses, restaurants, and other major employers across the country cut costs, shut down entirely, or try to budget to weather an oncoming recession.
Yesterday, retailers from major companies like Macy's, The Gap, Kohl's and Neiman Marcus also announced that they'd furlough many of their employees. Macy's will furlough the majority of their 125,000 employees and Gap and Kohl's have furloughed about 80,000 employees each. Gannett, the largest publisher of newspapers in the United States, announced plans to furlough many employees and cut pay across their offices around the country. These major furloughs are also happening in hospitality and across the airline industry.
But what is furlough? Is it different than being laid off? Can you get paid during a furlough? Can you file for unemployment? Here, we explain.
What Is Furlough?
Furlough is when employee hours are functionally set to zero rather than being laid off. That means that furlough is a temporary decision and that companies expect to bring the employees they furlough back on to full-time once the furlough ends. Employees are either paid nothing or low pay during a furlough period, but every company does furlough differently.
In general, employers go the furlough route rather than straight-up layoffs because they want to keep employees who do valuable work safe and secure in their work positions. And, for companies in general, this is a cost-reducing measure in uncertain economic times.
Can You Get Paid When You're Furloughed?
When you're furloughed, whether or not you get paid by your employer during the furlough period depends on the employer itself. The federal government, for example, generally suspends pay entirely during furlough periods, like when the government is shut down over budget negotiations or for failing to raise the debt ceiling, but Gannett's furloughed employees will get three weeks of pay for each month in April, May, and June.
But even if you're a furloughed employee who isn't being paid, you can still apply for unemployment. Most of the time, employees who are furloughed and who are not being paid can file for unemployment. Another way some employees who are furloughed can receive payment is by using their paid vacation time if they have it through their job. That can provide furloughed employees with some, or all. of their pay throughout some of the furlough.
Basically, a furlough is like not being scheduled at work for a few weeks. Employees who are furloughed can expect to be brought back after the furlough period ends. But, even if furloughed workers aren't being paid, they can still file for unemployment and receive the stimulus check coming to every American in a few months as part of the Coronavirus stimulus package.
For now, if you do go on furlough, the reality is, it's just going to depend on your employer's policies combined with the state where you live.