39 States Qualify For CDC's International "Do Not Travel" List
Florida is the second-most infected place on the planet.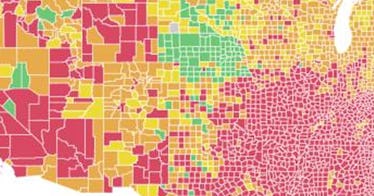 BROWN SCHOOL OF PUBLIC HEALTH
It's no secret that we all want this pandemic to be over. But the reality is that it's not, and signs are pointing to it getting worse again. According to the Centers for Disease Control and Prevention (CDC), 39 states in the US qualify for its international "do not travel" list because there's too much community spread of COVID. Here's what you need to know.
The CDC has been tracking COVID-19 data since the beginning of the pandemic. Now that travel is starting to open up slowly, the agency is monitoring and listing its advice on which countries to avoid, vaccinated or not, due to the risk of COVID.
The countries are divided into categories, listed as level unknown through level four, which indicates the risk of contracting COVID if someone were to travel there. The CDC recommends only fully vaccinated people travel internationally. But still advise non-essential travel to be avoided, especially to countries in level 3 and level 4.
While the agency doesn't track domestic travel risks, Forbes notes that "if the CDC applied its standard to individual states, nearly four out of five would currently be flagged as a 'Do Not Travel' destination." Seven new countries were added to that risk category recently, which is worrisome. But the US isn't fairing much better either.
The publication shares that if we were to look at each state based on the guidelines the CDC has for travel, 39 states would be considered too "high risk" for travel, vaccinated or not. "If Florida were a country, it would be the second-most infected place on the planet, just behind Guadeloupe," Forbes reports. "If Louisiana were a country, it would be at no. 4 in the world for new daily Covid-19 infections."
The vaccination efforts are still ongoing in the country and the CDC is urging people who have not been fully vaccinated to go and do so. And, regardless of vaccination status, the CDC is strongly recommending that people continue to social distance, practice good hand hygiene, and to wear masks, particularly when in an indoor setting within an area of high or substantial transmission.
So, again, if you've not yet gotten both vaccines, now's a great time to book an appointment.