Disney Is Dropping Its Mask Mandates (Again)
Both Disneyworld and Disneyland will be mask-optional for fully vaccinated guests.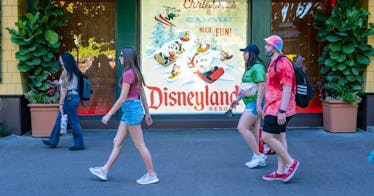 MediaNews Group/Orange County Register via Getty Images / Contributor
U.S.-based Disney parks and resorts plan to lift mask mandates just in time for
a surge of spring travel. In a statement released this week, Disney explained the new rules. Although the wording is different for east coast and west coast locations, it basically boils down to the same thing: if you're not vaccinated, you need to pack your masks.
Disneyworld's new rules:
F"ace coverings will be optional for fully vaccinated Guests in both outdoor and indoor locations. We expect Guests who are not fully vaccinated to continue wearing face coverings in all indoor locations, including indoor attractions and theaters. Face coverings will still be required by all Guests (ages 2 and up) on enclosed Disney transportation, including Disney buses, monorails, and Disney Skyliner."
Disneyland:
"Beginning February 17, 2022, face coverings are required for unvaccinated Guests (ages 2 and older) in all indoor locations, including throughout indoor attractions and indoor queues. Face coverings are required for all Guests, regardless of vaccination status, in certain indoor settings including Disney shuttles and in health settings, such as in First Aid. Face coverings are optional for Guests in outdoor areas."After Disneyworld faced a four-month closure in 2020 and Disneyworld shut down for a year due to the pandemic, Disney parks reopened with strict regulations on distancing, mask-wearing, and limited capacity. The parks experienced a boom of reservations as people itched to get out of their homes after months of lockdown. The company lifted its mask mandates once before, in 2021, but backtracked once the Delta variant began making waves last summer. At that point, the company also announced the requirement that all Disney employees receive vaccinations or face termination.
Mask Mandates Are Changing Nationwide
Disney isn't the only entity lifting mask mandates these days. Several states, including Connecticut, New Jersey, Illinois, and Oregon, have
lifted in-school mask mandates, and, according to reporting by CNBC, over half of U.S. states have lifted business mask mandates.These changes come at a time when the surges caused by the Omicron and Delta variants have slowed, and Covid hospitalizations have seen a slight decrease. Currently, we're seeing around 141,000 new cases per week, whereas this time last month, that number was over 750,000 per week. As of last week, 2,000 people were still dying of COVID-19 daily nationwide.Though new cases have declined over the last several weeks, the CDC and the federal government still recommend face coverings. "All of us should wear high-quality masks when in public indoor settings," said Surgeon General Admiral Vivek Murthy in a press conference earlier this month. "This is how we can continue to create a wall of protection around our children under five [the age at which vaccination is approved] as we look to safeguard their health."