Disney Just Raised Their Ticket Prices Again — Get Ready To Shell Out $164
Price increases are everywhere at the happiest place on Earth.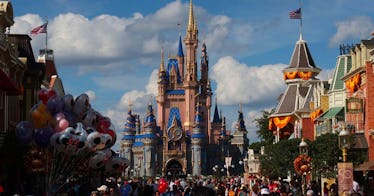 If you're planning a trip to Disneyland any time soon, it's about to get even more expensive than it already has been.
The happiest place on earth has announced plans to add a sixth-tier price option, a move that will ultimately raise the prices on some single and multi-day tickets. Here's what parents need to know.
Disney announced on October 25th that a sixth-level tiered ticket will soon be an option for people trying to go to the parks. This newer level will become available when there's a high demand at the park, meaning the most popular days to visit will end up costing a lot more. It's a little bit like congestion pricing — a policy that has been floated in cities across the world to raise revenue when there are tons of cars on the streets — except instead of cars, it's people, and they're all just trying to go to Disney parks.
The new pricing scheme is interesting — and also disappointing. Many families have stated that, despite how much they'd love to go to Disney, they can't afford the cost of the parks — and with affordable fast pass options disappearing, it's increasingly clear that Disney is no cheap family vacation.
According to SFGate, a single-day ticket to visit Disneyland ran at $41 in 2000. When the publication adjusted for inflation, the price of a ticket would cost $62 today.
Instead, the new sixth-tier tickets will cost $164 for a single-day, single-park ticket, a massive increase from 2002 prices. The price to visit both Disneyland and California Adventure Park will cost $224, which will go into effect in March 2022.
With the addition of the new tier, the cost of tier 1 tickets for days when Disneyland parks are less popular and less crowded will hold at the same price of $104. However, all the other tiers, 1 through 5, have increased in price along with the introduction of the new price tier. This is the first time the park has increased ticket prices since February 2020.
Tier 2 has gone up from $114 to $199; Tier 3 has gone up from $124 to $134; Tier 4 has gone up from $139 to $149, and tier 5 will go up from $154 to $159. Most of these amount to an increase of 3 percent to 8 percent increases year-over-year.
Other price increases are set to take effect soon, too. This includes the multi-day park hopper tickets, which will now cost $315 (up from $290) and the price of parking is rising, too.
Many fans of the park have taken to social medial to express their disappointment with the price increases. Not only does the extra cost is making it more challenging for the average family to go on vacation, but many of the park's perks aren't running at full capacity due to the pandemic anyway.
Disney and its parks have always been expensive – too much for many families – and this new price increase makes the dream of visiting seem even more impossible so many.