Disneyland Is Reopening In April — But There's A (Quiet) Catch
If you're looking to ride a roller coaster, you'll need to remember not to scream.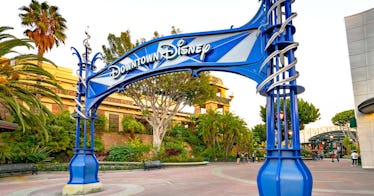 Getty
After more than a year of being shut down, Disneyland Park and California Adventure Park are set to re-open to guests at the end of next month. Both parks will allow guests who are California residents to return on April 30, after a year of being closed down due to the ongoing coronavirus pandemic.
The two parks, which are based in Anaheim, CA, will open at limited capacity, as new safety guidelines from California's public health directives allows for red-tier counties – the second-highest level of risk – to reopen theme parks at 15 percent capacity for in-state residents.
The plan for the re-opening includes a new reservation system that will keep the park at capacity, along with requiring masks to be worn at the parks and encouraging social distancing to reduce the risk of spreading COVID-19.
Along with the new safety guidelines, there will also be one major difference for anyone hoping to ride the roller coasters, if they end up being a part of the reopening plan: no screaming.
That may sound silly but California's Attractions and Parks Association is recommending that theme parks "mitigate the effects of shouting" in order to reduce the risk of spreading the coronavirus. It is also recommended that singing is discouraged as well, as it has also been linked to spreading COVID.
That being said, it looks like Disney California Adventure Park might not be opening their rides at all — or will be operating the rides at a limited capacity, in accordance with California guidelines. So the silent rollercoasters may or may not be a dystopian reality.
Even with these new restrictions in place, Disney CEO Bob Chapek expressed enthusiasm that guests will finally be returning to the parks after more than a year of having to stay away.
"It's been a long, long time since we've been able to create magic for our guests, and put our cast members back to work and help the associated businesses around the Anaheim area that currently depend on Disneyland for their livelihood," Disney CEO Bob Chapek told CNBC's Squawk Alley. "It's going to be a great opportunity for us, I think, to bring that magic back to everyone involved."
This article was originally published on