This Disneyland Hack Just Became Totally Unaffordable
The Happiest Place on Earth is getting even more expensive.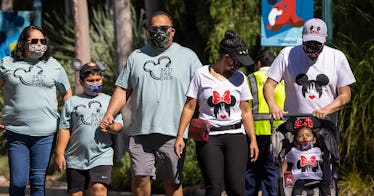 GETTY
Disneyland may be the Happiest Place on Earth but that happiness comes at an increasingly high price, as the cost of admission to the beloved theme park has skyrocketed over the last few years. And the cost of taking your family to Disneyland is set to become even more pricey, thanks to the newly announced Lightning Lane.
Lightning Lane will be replacing FastPasses, which were free passes you could get to basically skip the line for popular rides. FastPasses were put on hold during the pandemic but now they are being phased out altogether. Lightning Lane is supposed to be more convenient than FastPasses but it's going to cost you an extra twenty bucks.
You can only access Lightning Lane through Disney Genie, a new service app that is launching this Fall and is meant to allow visitors to maximize their experience. But to get Lightning Lane, you'll need Genie+, which will cost $15 at Disney World and $20 at Disneyland.
If you are willing to pay, you will be able to use Lightning Lane for 15 attractions at Disneyland and 40 at Disney World. Of course, if you are going with your family, that means you will be having to pay the $20 fee per ticket, which could burn a hole in your pocket on top of the money you already spent just to get into the park.
This new change has been criticized online by people who are annoyed that Disney is adding extra costs to the already exorbitant experience of going to Disneyland or Disney World. Some critics have said that these changes are just an attempt to make up for the lost revenue from the pandemic. But Disney Parks chair Josh D'Amaro defended the move, telling CNN that the Genie app is "a continued evolution to make sure that we make that guest experience better every time a guest visits us."