Disneyland, Disney World, and Universal Studios Have ALL Been Closed
The happiest places are shutting down for now.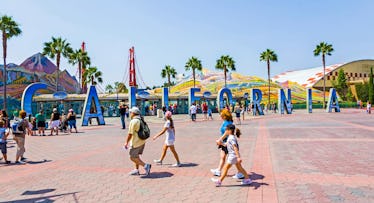 Getty
The coronavirus is closing down large gatherings everywhere, and the next hit has been Disneyland, Disney World, and Universal Studios. Experts have agreed that limiting social groups amid the COVID-19 outbreak is the best plan of action to limit how fast and extensive the virus spreads, but this is going to have a significant impact on businesses and families. Here's what you need to know.
By Monday, March 16th, all Disney-owned theme parks are set to shut down due to the coronavirus spread across the world. Both Universal Studio locations will also close for at least two weeks, the company announced.
These new announcements came pretty quickly after California Governor Gavin Newsom held a press conference addressing new guidelines to cancel or postpone gatherings with 250 people or more. At that time, he wasn't sure where that would land with large parks like Disneyland and other businesses that rely on those crowds due to "the complexity of their unique circumstances."
But it didn't even take 2 hours after that press release for Disney to announce their plans to shut their doors for the time being.
"Late last night, California put out a new policy on mass gatherings and engaged in deep conversations with Disney and other companies about how to meet it," Newsom said in a statement on Thursday afternoon. "Using that policy, Disney made the right call in the interest of public health and agreed to shut down its California parks. Expect more announcements like this shortly."
The Disney Cruise Line suspended their departures, and Disneyland Resort hotels expect to shut down after March 17th, leaving some time so guests can make other travel arrangements. All of these closures are made to help "flatten the curve" of people becoming infected with the coronavirus COVID-19 to help keep the hospital and other resources from becoming overwhelmed.
These are major closures and they're likely not the last we're going to see.
This article was originally published on