Disney World Still Has a Dozen Original Employees, 50 Years Later
"We are privileged to be at a place where we love what we do."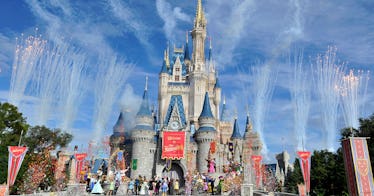 GETTY
It feels like these days, it's rare to have people work in the same company for most of their working career. That's what makes the original employees of Disney World, who have been employed with the company since the park opened, so impressive. They've stayed with the company for 50 years, which is as long as the park has been open.
When word got out that Florida was about to become home to Disney World, fans of Disneyland, which is in California, had no idea how important the park would become to their lives and careers, according to a profile on AP of the park's career-long employees. Chuck Milam, George Kalogridis, Forrest Bahruth, and Earliene Anderson were among those hired to help run the park when it first opened its doors decades ago. And now, 50 years later, on the eve of the official 50th anniversary, they're still working there.
"At the time, the three were among the 6,000 employees who opened the Magic Kingdom at Disney World to the public for the first time on Oct. 1, 1971," AP reports. "Now, they are among two dozen from that first day still employed at the theme park resort as it celebrates its 50th anniversary on Friday."
So much has changed in those decades. The company expanded, including more parks, hotels, and a workforce that grew from 6,000 employees to 77,000 employees. Larger crowds, more attractions, and higher prices have made Disney a very different place than it used to be. But one thing has stayed the same: Chuck, George, Forrest, Earliene, and several more still love working there.
"Disney has been my love, and it still is," Earliene shared before heading to work for the day. She works in the merchandising department at a Magic Kingdom hotel. "I love Disney."
"There are people all over the world who get up to go work. They're unhappy about it. They don't really like their jobs," Forrest said. "As you can tell from us, there's an enthusiasm. We are privileged to be at a place where we love what we do."
These days are packed with so much uncertainty. And a lot of people have experienced work and career struggles. So with that, it's nice to hear some people have been able to infuse their passion and love into the work they do every day. And working at Disney World, the so-called happiest place on Earth, sounds like it's been fantastic for Chuck, George, Forrest, and Earliene.