Disney World Is Fully Booked For Spring Break. Yikes!
Florida is still averaging about 5,000 cases a day, and the mask mandate is no more.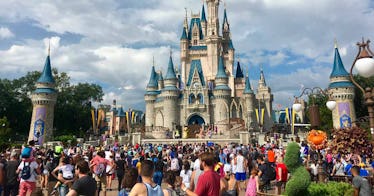 Matt Clare/Flickr
The pandemic is not over, but people are going to Disney World anyway. But should they? Here's what's going on.
According to the Disney World website, the Disney World Parks in Orlando, Florida, are completely booked for spring break — from Saturday, March 13 to Friday, March 19. Though not surprising per se — Disney has remained open throughout the pandemic since it reopened in July of 2020, operating at a reduced capacity and with COVID-19 restrictions.
It's understandable that people want the pandemic to be over, but even though the CDC guidelines for vaccinated people are far more permissible than the guidelines we've been living under for a year, travel is still not advised. And while much of Disney World is outside, the risk is not zero, especially at a time when COVID is still raging.
It is alarming that so many people are planning to travel when the pandemic is still in full swing, COVID-19 variants threaten to overwhelm hospitals just as vaccination rates climb, the CDC itself has said that March and April would be two of the most consequential months of the pandemic, and as of late February, only 1.9 million Florida residents have been fully vaccinated out of nearly 22 million people who live there. (these numbers are likely somewhat outdated).
Nevertheless, Spring breakers are doing their thing. From the week of March 13th to the 19th, park passes are sold out at every single 'world' at the Orlando park: Magic Kingdom, Animal Kingdom, Epcot, and Hollywood Studios will be inaccessible to people who hadn't already somehow, or for some reason, planned this trip well in advance.
Add that to the fact that Florida's beaches tend to be the spot for college student spring break travelers — who significantly contributed to major outbreak events in the state, this time, a year ago, and it all starts to feel a bit like Groundhog Day. Local officials are worried — and it's not too shocking to see why. The rolling average of daily cases is much higher than it was in March, with around 5,000 new cases a day, and over 100 deaths per day from the virus. Sadly, this represents an improvement from December, January, and February, where cases were even higher — so it looks like Florida is just about to catch a breath.
While the Florida trips in March of 2020 did lead to an outbreak, the extent of the outbreak appeared to be smaller than what we will likely see on the heels of the mass trips to the beaches, to college bars, to Disney World, and to Epcot. (Part of this may be due to testing capacity, which was still being ramped up at the time.)
The result of massive crowds of revelers, whether they be Florida natives or those who drove or flew into the state, could be catastrophic for the caseloads of COVID-19, even if all of them wear masks at all times. Masks are mandated at Disney World, but Governor DeSantis rescinded the mask mandate, so anything could happen outside of the parks. The highly transmissible COVID-19 variants are in the state now, wreaking havoc on the health system and people's lives.
In other Disney news, Disneyland, the entertainment conglomerate's California park, will also reopen at a reduced capacity in California in late April. Only in-state visitors will be allowed to visit, indoor rides will be closed, and indoor dining will be restricted. The announcement comes at a time when the park still falls under the most severe threat level in the state — "widespread" COVID transmission, where the positivity rate is more than eight percent over a seven-day average. Disneyland appears to be betting that the downward trend of COVID cases in Southern California — one of the hardest-hit regions in the country, where at one point, one person was dying every six minutes of the virus in Los Angeles, will help them reopen in some capacity.