Newest Disney Parks Hack Includes Doing Crime
One man managed to skip lines through some creative and slightly nefarious scheming.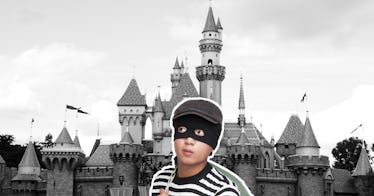 GETTY
Disney's theme parks have become so expensive that the amount of money you will end up spending can feel borderline criminal. And one man decided to dish out his own brand of vigilante justice in the form of using a stolen iPad to save a little cash and skip the lines at Disney World. Now, this is not an endorsement of the scheme, but… it is funny.
Back in June, 30-year-old Rennan Carletto was discovered to be using an unofficial Walt Disney World app to make unauthorized reservations, allowing the tour group he was leading to bypass any lines and immediately get onto whatever attractions their hearts desired. This app is for official Disney Parks cast members, giving them the opportunity to not have to deal with the hassle of lines when they visit the parks.
Actually, his rule-breaking plan is a lot like the Disney fast pass — which now no longer exists as it's been replaced by the Lightning Lane. Lightning Lane passes cost a whole lot more than the now-defunct fast passes. But Carletto found an, ahem, affordable way to get around that.
The plan was going flawlessly until an investigations manager from the park's Tickets and Resort Fraud department discovered Carletto and the group he was leading skipping one of the lines. They informed the staff operating the ride to cancel the reservation and not allow them onto the attraction.
The investigator then followed Carletto to the parking lot and confronted him, where he explained that he worked for a company called 'A Class' and that he was not aware the iPad had been stolen, as it had been given to him by his boss Tony. The authorities were called and the iPad was returned but since it had not been reported stolen, Carletto was not charged with any crimes (though he was given a trespassing warning for all Disney Parks).
While using a stolen iPad to cut lines is, at best, morally questionable, it's understandable why someone might try a stunt like this. And who did the scheme harm, really? After all, the cost of admission to Disney's theme parks has skyrocketed over the last few years and the buck certainly doesn't stop there. The newly announced Lightning Lane aside, the cost of tickets to Disney is unaffordable for those who most likely want to go.